Newmarket Naturopathic & Integrative Health Clinic
Newmarket Naturopathic & Integrative Health Clinic stands as a leading beacon of naturopathic care in the vibrant community of Newmarket. Newmarket Naturopathic & Integrative Health Clinic is one of the Three Best Rated® Naturopathy Clinics in Newmarket, ON.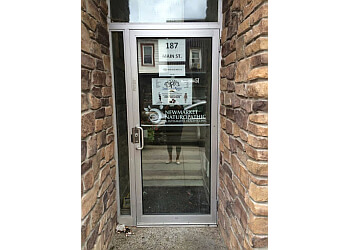 The clinic is deeply committed to its mission to empower patients to embark on a journey of positive lifestyle changes, ultimately enhancing their health and achieving a harmonious balance in life. At the core of this esteemed clinic are three highly skilled naturopathic doctors. Their mission is to help empower patients to make positive lifestyle changes to improve their individual health and achieve balance. Dr. Alexandra Lee, a licensed and board-certified Naturopathic Doctor, serves as the clinic's founder. She specializes in delivering holistic healthcare solutions that cater to individuals and families alike. Dr. Lee is celebrated for her compassionate approach and her dedication to crafting comprehensive, personalized treatment plans that prioritize each patient's unique needs. Central to Dr. Alexandra Lee's practice is the unwavering commitment to helping patients attain their individual health objectives and unlock their full potential. She places a strong emphasis on preventive medicine, equipping patients with the knowledge and tools they need to make informed, health-conscious choices in their lives. Having proudly served the communities of Newmarket, York Region, Simcoe, and the Greater Toronto Area for over a decade, Newmarket Naturopathic & Integrative Health Clinic has established itself as a trusted resource for holistic well-being. Furthermore, the clinic offers the convenience of home visits, ensuring that their patients have access to quality care wherever they are.
CONDITIONS:
Thyroid Disorders

Erectile Dysfunction

Allergies

Musculoskeletal Injury

Acne

Back Pain

Stress

Fibromyalgia

Smoking Cessation

Endometriosis

Obesity

Menopausal Symptoms

Headaches

Asthma

Chronic Pain

Cardiovascular Disease

Autism

PMS

Migraine

Cold

Diabetes

Infertility

Uterine Fibroids

ADHD & Digestive Disorders
I went to see Dr. Elie Tannous due to an old injury from a car accident. I had about 4-5 visits with him so far and can not believe the difference I am already seeing in my body. The left side of my body was completely off alignment and made me feel unbalanced along with pain down my back and legs. After seeing Dr. Tannous there has been massive improvement in terms of alignment and the pain. He is very thorough in his work and also in explaining what he is doing. He also offers easy to do exercises to follow up with at home. I can say I certainly feel improvement and will be going back to Dr. Elie Tannous. Thank you so much Dr. Tannous for all your help so far!
Had my first facial reflexology with Angie last week and she is just amazing!! Hands down the best facial massage, I even had a nap because I was so relaxed! If you haven't tried it yet you should! A+++ Very relaxing & perfect after a very stressful day! Thank you Angie, soft hands & a lovely, calming energy made this experience delightful. Will definitely be going back for more.
I have been so blessed to have been able to find Dr. Lee. Other than being friendly and extremely approachable, she is very knowledgeable and professional and extremely professional. Two visits with her and I have had amazing results in my health and lifestyle. Any question I have asked she has had an answer for. I am looking forward to my next visit with her in a few weeks and more after! I would highly recommend anyone have a session with her and I'm sure everyone will come to the same conclusion as me.
Mon-Sat: 9am - 7pm
Sun: Closed
Nearby Naturopathy Clinics in Newmarket: