Newmarket Naturopathic Health Centre
Newmarket Naturopathic Health Centre is a renowned establishment in Newmarket, dedicated to the mission of elevating your health to its zenith through the practice of naturopathic medicine. Newmarket Naturopathic Health Centre is one of the Three Best Rated® Naturopathy Clinics in Newmarket, ON.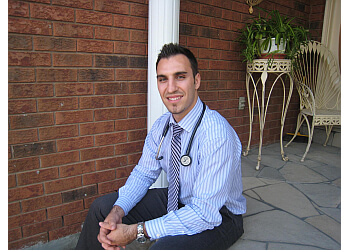 Leading the way is Dr. Michael Morsillo, ND, a certified naturopath, whose unwavering commitment revolves around constantly seeking the latest and most effective naturopathic treatment options to provide you with nothing less than the highest level of care. Dr. Michael Morsillo specializes in offering natural treatment solutions for a range of hormone-related concerns, including thyroid disorders and menopause, among others. What truly sets this clinic apart is its unwavering dedication, boundless compassion, and utmost professionalism in providing the most cutting-edge naturopathic treatment options. Proudly serving the communities of Newmarket, Aurora, and surrounding areas, their primary mission remains to assist you in achieving peak health using the principles of naturopathic medicine. At their clinic, they employ safe and effective treatments, ensuring that, regardless of your health concerns, there exists a natural solution tailored to your unique needs. Newmarket Naturopathic Clinic is the foremost naturopathic health center in Newmarket, extending its services to Aurora, Markham, Richmond Hill, Vaughan, Bradford, Keswick, Innisfil, and Barrie. Their comprehensive offerings encompass natural treatments for a diverse range of health issues, including cancer, anxiety, depression, hormone imbalances, weight loss, and more.
CONDITIONS:
Weight Loss

Sibo

Psoriasis/Eczema

Menopause

Adhd

Hormone Imbalance

Fatigue

Anxiety

Depression

IBS

Leaky Gut

Insomnia

IV Therapy

Adrenal Fatigue

Lung/COPD

Hypertension

Asthma and Respiratory Conditions

Psoriasis

Eczema

Acne

Joint Pain and Arthritis

ADHD

Food Sensitivities

Thyroid

Crohn's

Colitis & Autoimmune Diseases
I was referred to Dr. Morsillo and was very impressed. He is very thorough and knows his stuff. I have not seen him for a year as my condition required a RA specialist "however" all of Dr. Morsillo's recommendations were spot on. He has calm demeanor and listens to all of your concerns. You will not be disappointed.
I had suffered with weight gain and inflammation for 8 years. Having other health related issues I discovered Dr.Morsillo. The first visit was hopeful, he set me up with a personal program and I would hear back one a month. This kept cost very affordable and yet if I needed to visit or call he was always available. I began to see results in the first month, after 1 year I was back to myself no aches or pains and no more tired afternoons. What a difference!!! My energy is back and life is good again. Thanks to Dr. Morsillo I'm enjoying riding again, new adventures await !
I have been seeing Dr. Morsillo for a number of years. I have digestive issues that I control by diet. Dr. Morsillo has guided me in a meal plan that ensures I get all the nutrients I need to maintain a healthy diet. I honestly don't know where I'd be without him.
Wed-Fri: 9am - 7:30pm
Sat: 9am - 7pm
Sun-Tue: Closed
Nearby Naturopathy Clinics in Newmarket: