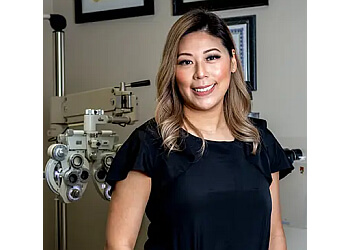 Dr. Linda Yee earned her doctorate in optometry with high honors from the renowned University of Waterloo School of Optometry. Furthermore, she completed specialized training in ophthalmology ocular diseases at the Bethesda Laser & Cataract Institute in Bethesda. Dr. Linda Yee is an active member of both the Canadian Optometric Association and the BC Optometric Association, which keeps her well-informed about the latest advancements in the field of eye care. She is dedicated to providing her patients with the highest level of care through comprehensive vision and eye health examinations, ensuring the preservation of their vision for the present and the future. Currently, Dr. Linda Yee practices at Lucent Family Eye Care.

UNIQUE FACTS:
• Dr. Linda Yee is proficient in English, Mandarin, Cantonese & Korean
• The clinic offers Protective and Specialty Eyewear Fitting.
Services:
CONDITIONS:
Comprehensive and Pediatric Eye Exams, Management of Ocular Diseases, LASIK and Refractive Surgery Co-Management, Eye Diseases Management, Myopia, Digital Auto-Lensmeter, Dry Pink and Red Eyes and Glaucoma Screening

PROCEDURES:
Eyeglasses, Contact Lenses & Prescription Sunglasses
Insurance Accepted:
Chamber of Commerce, Cowan Insurance Group, Pacific Blue Cross, Desjardins, Equitable Life of Canada, Canada Life, Green Shield Canada, IA Financial Group, Johnson, Johnston Group, Manulife, Maximum Benefit, Nextgen, Standard Life, Sun Life Financial, the Cooperators, Cinup, First Canadian, Group Source, Industrial Alliance, Manion, Claimsecure & RWAM Insurance
Contact:
Working Hours:
Mon,Wed & Fri: 9am - 5pm
Tue & Thu: 10am - 6pm
Sat: 9am - 4pm
Sun: Closed
TBR® Inspection Report: