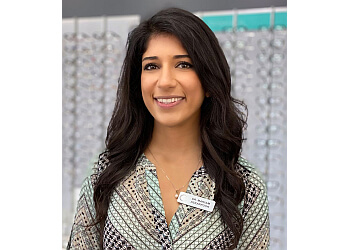 Dr. Maryam Askarpoor's academic journey commenced with a Bachelor of Science degree, which she completed at UBC in 2017. Her pursuit of excellence led her to the University of Waterloo in Ontario, where she obtained her Doctor of Optometry title with distinction in 2021. Dr. Askarpoor's training encompassed diverse clinical experiences, including primary care rotations in Calgary, AB, and ocular disease rotations in Smithers, BC. These rotations honed her expertise in managing conditions such as dry eye and glaucoma, and she also developed proficiency in handling emergency cases like foreign body removal. Her professional interests extend to ocular disease, specialty contact lenses, and myopia control. Beyond her clinical practice, Dr. Askarpoor possesses a deep-seated commitment to expanding access to eye care. During her tenure in optometry school, she served as the president of sVOSH (Student Volunteers for Optometric Services to Humanity) and collaborated with various organizations to orchestrate successful and sustainable missions to provide free eye care in less developed countries. A testament to her dedication, in 2019, she led a team of Optometrists and students on a mission to the Philippines, where they offered free eye care to over 1,000 patients, embodying her genuine passion for making eye care accessible to those in need.

UNIQUE FACTS:
• Dr. Askarpoor Can Do Your Eye Exams in English and Farsi
• Services Are Offered Through Appointments.
Services:
CONDITIONS:
Amblyopia, Strabismus, Macular Degeneration, Keratoconus and Diabetic Retinopathy

PROCEDURES:
Comprehensive Exam, Contact Lenses Fitting, Frames, Lenses, Corneal, Retinal, and LASIK Surgery, Pre and Post-Operative Care, Oculoplastic, Vision Health Evaluation & Visual Field Testing
Contact:
Working Hours:
Mon,Wed & Fri: 9am - 6pm
Tue & Thu: 9am - 7pm
Sat: 9am - 5pm
Sun: Closed
TBR® Inspection Report: