Dr. Stephanie Strawn, OD - STRAWN & CO. OPTOMETRY
Dr. Stephanie Strawn, OD - STRAWN & CO. OPTOMETRY is one of the Three Best Rated® Optometrists in Kelowna, BC.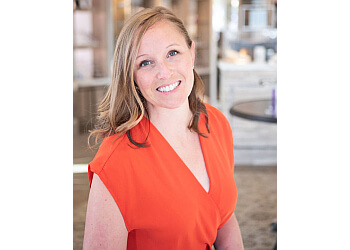 Dr. Stephanie Strawn holds a doctorate of optometry from the University of Waterloo and brings over 15 years of valuable experience to her practice. Her unwavering commitment is to deliver the utmost in ocular health and vision care to the community she serves. Dr. Stephanie Strawn's specialization lies in postoperative management and surgical consultations, where her expertise truly shines. She currently practices at Strawn & Co. Optometry, a clinic equipped with advanced technology and a dedication to providing exceptional service. Their commitment to excellence is evident in their approach, as they ensure all recommended testing is included, setting the highest standard of care. The clinic's mission revolves around conducting thorough and informative examinations, fostering a collaborative effort with patients to maintain optimal eyesight for years to come. In addition, Strawn & Co. Optometry boasts the largest selection of eyewear in West Kelowna, further enhancing their patients' choices for stylish and functional eyeglasses. Moreover, they offer a one-year unconditional warranty on both frames and lenses, providing added peace of mind to their valued clientele.


Emergency Care
Direct Billing
Services Are Offered Through Appointments.
CONDITIONS:
Computer Vision Syndrome (CVS)

Dry

Red

and Pink Eyes

Retinal Disease

Diabetes

Reduced Vision

Flashes

Floaters and Vision Diseases

PROCEDURES:
Comprehensive Eye Examination

Eyeglasses

Contact Lenses

Surgical Co-Management & Sunglasses
I had an excellent experience at Strawn & Co Optometry this week. Everyone was lovely! I had been at an optometry clinic in the lower mainland my whole life, & was nervous about a change in a year with so many changes. I had co-workers that had great experiences there, & decided to give them a try. Super happy with my decision, & would definitely recommend them to anyone looking for a new clinic!
I had a wonderful, relaxed appt. with Dr. Strawn and her assistant Kristy was a pleasure to talk with. The front staff was awesome! Office manager Marie was so helpful in showing me how to put in my new contacts. There is a huge selection of frames and lenses and would highly recommend this clinic to anyone!
Both of us had our eyes checked by Dr. Strawn and her staff. Everyone is very professional and competent in their areas of expertise. Dr. Strawn has a wonderful bedside manner and makes one feel like they are being well cared for. Even the analysis of a more extensive test was very prompt and thorough. Highly recommended!!
Discount
30% Off Select Frame Lines

Mon-Thu: 8:45am - 6pm
Fri: 8am - 3:30pm
Sat & Sun: Closed
Nearby Optometrists in Kelowna: