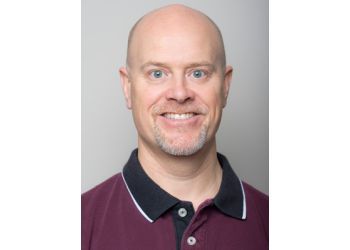 Matthew Aggerholm completed his education at Queen's University in 1999 and further attained his Masters of Manipulative Therapy from Curtin University in Perth, Australia, in 2004. He has undergone extensive post-graduate training in the domains of orthopedic and vestibular rehabilitation. In 2008, Matthew was granted a certificate of achievement for his expertise in vestibular rehabilitation from Emory University in Atlanta. He sustains his skill set and dedication to patient care through a commitment to ongoing education courses. He presently maintains memberships with both the Vestibular Disorders Association (VEDA) and the Canadian Association of Manipulative Physiotherapy (CAMPT). Their specialization involves addressing issues like dizziness, vertigo, concussion, jaw disorders, whiplash, and neurological injuries. Their array of specialized services encompasses Physiotherapy, Occupational Therapy, Massage Therapy, and Athletic Therapy. Their treatment approach is rooted in evidence-based practices, facilitated by skill enhancement and continuous education.

UNIQUE FACTS:
• Matthew Aggerholm is a Registered Physiotherapist with over 20 years of experience.
• Free parking on site.
Specialty:
CONDITIONS:
Shoulder Conditions, Neck, Back, Knee, Sciatica, Carpal Tunnel Syndrome, Joint and Ligament Sprains, Posture, Post-injury, Tendonitis, Sports Injuries, Foot/ankle Problems & Muscle Strains

PROCEDURES:
Postural Analysis, Massage and Athletic Therapy, Soft Tissue Therapy, Acupuncture and/or Mps, Ultrasound & Post-surgical Rehabilitation
Contact:
Working Hours:
Mon-Thu: 8:15am - 7:15pm
Fri: 8:15am - 5pm
Sat & Sun: Closed
TBR® Inspection Report: