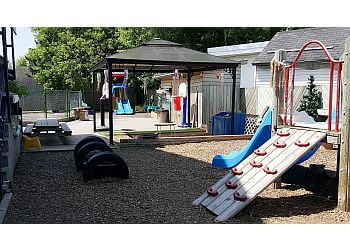 Sunny Day Care stands as the foremost preschool institution in Kitchener. With a legacy of over two decades, it has consistently offered local children an enjoyable, educational, and nurturing atmosphere. Their commitment revolves around providing a secure and stimulating setting, rendering vital services within their community. The compassionate, affectionate, and adept staff comprehensively comprehend the early childhood needs of every child. The educators collaborate closely with regional early learning experts and child development advisors to unlock and optimize each child's learning capabilities. Actively engaging in government-driven quality initiatives such as Early Years Engage, they continuously elevate the calibre of their programs. This devoted and inventive team comprehends every facet of your child's early years, striving to maximize their potential for learning while fostering essential social, cognitive, linguistic, and self-exploration skills, confidence, and autonomy. All instructors are registered with the College of Early Childhood Educators of Ontario and hold First Aid certification. Sunny Day Care accommodates children from six months to five years old, providing early education that is rich in nourishment and engagement. The institution also organizes enriching field trips for the children under their care.

UNIQUE FACTS:
• Over 20 Years of Child Care Experience
• Group and Individual Learning
• Group and Individual Art
• Everyone Responds Positively to Kindness and Feels Closely Bonded and Secure
• They Dedicate to Providing a Safe and Inspiring Environment for Children.
Specialty:
Infant, Toddler, Pre-School, Songs, Stories, Games, Role-Play, Dramatic Play, Activities & Free Play
Contact:
Working Hours:
Mon-Fri: 6:30am - 6pm
Sat & Sun: Closed
TBR® Inspection Report: