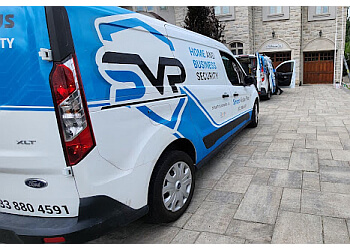 Smart Vision Plus is a reputable and widely recognized Security System Service established in Markham, ON. Their proficient team adeptly oversees projects with the exacting skill and extensive experience that their clients have grown accustomed to. Smart Vision Plus Inc. assures clients of professionalism, efficiency, and exceptional outcomes. This firm reliably aids both individuals and organizations in augmenting their security measures by delivering an extensive array of top-tier security equipment, accompanied by meticulous and adept installations across the GTA. Their team of adept and trained experts ensures dependable security systems utilizing cutting-edge equipment available in the market. Drawing upon years of experience in security camera installation, their technicians and installation crew excel in their field. Smart Vision Plus effectively harnesses the latest technological advancements within residential and commercial security systems, all while maintaining a budget-friendly approach. Their expertise is a fount of knowledge, offering clients a comprehensive guide that imparts a profound understanding of their camera systems. Notably distinct from conventional cameras, wired security cameras operate with unique intricacies, necessitating specialized installation methods. Within the Greater Toronto Area, Smart Vision Plus excels by providing top-tier alarm systems alongside highly rated monitoring services. This extends to both residential and commercial clients, all delivered at an accessible price point.

UNIQUE FACTS:
• 200+ Alarm Systems
• 1650+ CCTV Installation
• 50+ Video Doorbell
• 115 Home Secured
• 1,900 + Successful Projects
• Experienced Team
• 24/7 Emergency Support
• Fast & Efficient
• Honest & Reliable
• Latest Security Techniques
• Affordable Services
• 100 %Customer satisfaction.
• Free Consultation.
Specialty:
CCTV, Security Camera, Alarm Systems, Home Automation, Video Doorbell Installation, Commercial & Residential
Contact:
Working Hours:
Mon-Sat: 9am - 7pm
Sun: Closed
TBR® Inspection Report: