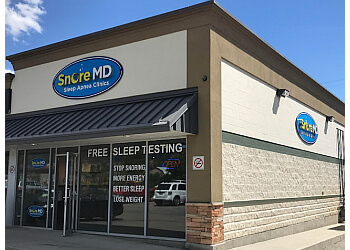 Snore MD Kelowna stands out as an exceptional chain of sleep clinics nestled within Kelowna. The clinic houses a team of clinical coordinators, respiratory therapists, and registered nurses, all unwavering in their commitment to addressing your sleep-related concerns. Their squad of sleep specialists remains at your disposal six days a week, dedicated to resolving issues such as snoring, restlessness, and interrupted breathing. This clinic provides a premium standard of respiratory healthcare, including CPAP therapy, all within a setting that embodies both comfort and modernity. Their emphasis extends beyond treatment, as they are also proactive in delivering comprehensive health education to the community, aiding individuals dealing with snoring and apnea challenges. At the heart of their mission lies the aspiration to foster healthier lives for their patients. The welcoming atmosphere at Snore MD Kelowna extends to walk-in visitors, ensuring convenience for those seeking their services. To embark on a path towards improved sleep quality, reach out to them to secure an appointment and unlock the potential for enhanced slumber through their dedicated care.

UNIQUE FACTS:
• Free Sleep Assessment
• Virtual Appointments Available
• Wheelchair Accessible
• Provide Same-Day Appointments
• Free Parking Facility
• CPAP Supplies.
Specialty:
Obstructive Sleep Apnea, Insomnia, Dry Mouth or Sore Throat, Choking, Gasping of Air During Sleep, Excessive Daytime Fatigue, Loud Persistent Snoring, Early Morning Headaches, Restless Sleep, Pauses in Breathing, Depression, Irritability and Sleepiness During Routine Activities, Nocturnal Oximetry, Home Oxygen & CPAP Therapy

Serving Locations:
Vancouver/ Broadway, Burnaby, North Vancouver, Ladner, Port Coquitlam, Langley, Maple Ridge, Mission, Surrey/ Panorama, Walnut Grove, Lethbridge, West Kelowna, Kamloops, Prince George, Victoria/ Shelbourne, Victoria/ Fairfield, Langford, Abbotsford & Gibsons
Contact:
Working Hours:
Mon-Fri: 9am - 4pm
Sat: 9am - 3pm
Sun & Holidays: Closed
TBR® Inspection Report: