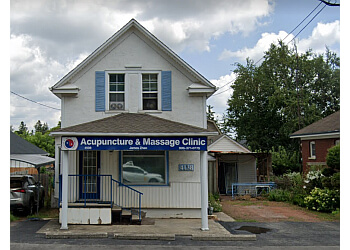 Acupuncture & Massage Clinic is a beacon of wellness and healing in Niagara Falls, Ontario. Since 1993, this clinic has been a trusted provider of secure and effective acupuncture treatments catering to various health conditions and disorders. At the helm of this nurturing environment is James Zhan, a dual-credentialed professional holding the titles of Registered Acupuncturist and Registered Massage Therapist. James's specialization extends to Chinese Medicine and Acupuncture, enriched by his licenses in Canada and the USA, including a notable New York State License and National NCCAOM board certification. This robust spectrum of expertise empowers James to offer a comprehensive approach to healing, combining the therapeutic powers of acupuncture and massage to address health concerns. James's practice transcends the confines of symptoms, embodying a holistic perspective that views the individual as a whole. His dedication reaches beyond treatment sessions as he guides individuals in transforming their habits and dietary choices. The clinic's guiding principles are centered around a dedication to holistic well-being, aiming to do more than just alleviate symptoms. Instead, the focus is on cultivating a profound transformation in how individuals perceive and achieve their personal health.

UNIQUE FACTS:
• Expert Knowledge and Compassionate Care
• Better Healing, Health, and Prevention.
Specialty:
Fibromyalgia, Back Pain, Tennis Elbow, Tendinitis, Frozen Shoulder, Bell's Palsy, Paralysis, Arthritis, Acne, Aging, Anxiety, Asthma, Constipation, Alopecia Areata, Diabetes, Facial Paralysis, Hypertension, Chronic Pain, Immune Deficiency, Insomnia, Common Cold, Menopause, Migraine, PMS, Psoriasis, Sciatica, Smoking & Stress
Contact:
Working Hours:
Mon & Wed: 9am - 5pm
Fri & Sat: 9am - 1pm
Tue,Thu & Sun: Closed
TBR® Inspection Report: