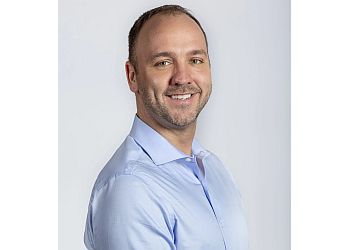 Jeff Aird graduated from Brock University with an Honours Bachelor's degree at Kinesiology in 2003, achieving First Class standing. Following this, he obtained his Trainers certification from the Certified Personal Trainers Network (CPTN) and had the privilege of training numerous collegiate athletes. In the same year, he received recognition from the Canadian Society for Exercise Physiology (CSEP) with a provincial distinction for his outstanding work in exercise physiology throughout the province. In 2005, Jeff continued his academic journey at the University of Western Ontario, where he successfully completed his comprehensive Master's Degree in Physical Therapy. Subsequently, he established the Niagara Orthopaedic Institute and took on the roles of Registered Physiotherapist, Clinic Owner, and Director of Clinical Services. Jeff is dedicated to delivering cutting-edge physiotherapy services in the Niagara region, and his approach centers on tailoring programs to meet each individual client's unique needs and objectives, ensuring a patient-centric experience.

UNIQUE FACTS:
• In 2016 Jeff was selected to be a member of the Program Advisory Committee at Niagara College in the OTA/PTA program.
• In 2015 Jeff won the Canadian Physiotherapy Association National Mentorship Award that recognizes a physiotherapist.
Specialty:
CONDITIONS:
Arthritis, Ankle, Wrist and Forearm Pain, Knee and Shoulder Injuries

PROCEDURES:
Therapeutic Modalities, Work Planning/Simulation, Passive Muscle Energy Work, Manual Joint Mobilizations, Postural and Activity Education/Modifications, Myofascial Release, Soft-Tissue Manipulation, Infrared Therapy, Vibration Therapy & Acupuncture
Contact:
Working Hours:
Mon,Tue & Thu: 8am - 7pm
Wed: 8am - 6pm
Fri: 8am - 5pm
Sat: 8am - 4pm
Sun: Closed
TBR® Inspection Report: