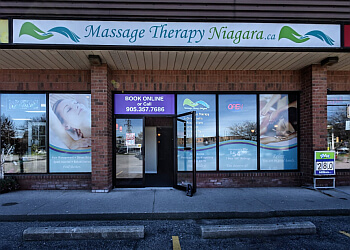 Massage Therapy Niagara delivers exceptional healthcare within a pristine, contemporary, and professionally designed facility that prioritizes relaxation. Their dedicated team of professionals has expanded, and they take pride in presenting a comprehensive array of services, including Registered Massage Therapy, Chiropractic care, Acupuncture, and Osteopathy. Their core focus is providing unparalleled client-centred care tailored to help you attain your treatment objectives. Upon stepping through their doors, you'll be greeted by a warm and inviting atmosphere, complemented by a friendly and attentive staff that immediately eases your stress. To enhance your experience, each massage session includes hot towel hydrotherapy, which further dissolves stress and tension. Located to serve Niagara Falls, St. Catharines, Niagara-on-the-Lake, Thorold, and neighbouring communities, Massage Therapy Niagara accepts many health insurance plans. They also offer a convenient direct billing service for Massage Therapy, Chiropractic care, and Physiotherapy, ensuring that they handle the administrative tasks with your insurance companies on your behalf.

UNIQUE FACTS:
• Offer Direct Billing
• 6 Days a Week
• Same Day Bookings Available
• Relaxing and Calming Environment
• Friendly Staff.
Specialty:
Therapeutic Massage, Sports and Pregnancy Massage, Lymphatic Drainage, Relaxation Massage, Indian Head Massage, Aromatherapy, Hot Stone Massage, Chiropractic, Acupuncture, Thermal Palms, Cupping, Kinesio Taping, Matrix Repatterning, Reiki & Reflexology
$Price:
MASSAGE THERAPY BY REGISTERED MASSAGE THERAPIST:
1 hr $88.50
30 min $57.52
45 min $75.22
1 hr 15 min $106.20
1 hr 30 min $123.89
DEEP TISSUE MASSAGE:
30 min $61.95
45 min $79.65
1 hr $92.92
1 hr 15 min $115.05

1 hr 30 min $132.74
AROMATHERAPY MASSAGE:
30 min $61.95
45 min $79.65
1 hr $92.92
1 hr 15 min $110.62
1 hr 30 min $128.32
COUPLES MASSAGE:
30 min $135.04
45 min $170.44
1 hr $197.00
1 hr 15 min $232.40
1 hr 30 min $267.78
CUPPING & MASSAGE THERAPY:
30 min $57.52
45 min $75.22
1 hr $88.50
1 hr 30 min $123.89
HOT STONE MASSAGE:
45 min $88.50
1 hr $101.77
1 hr 15 min $119.47
1 hr 30 min $137.17
INDIAN HEAD MASSAGE:
30 min $61.95
45 min $79.65
1 hr $92.92
1 hr 15 min $110.62
1 hr 30 min $128.32
LYMPH DRAINAGE MASSAGE:
30 min $66.37
45 min $84.07
1 hr $97.35

Discount:
Contact:
Working Hours:
Mon-Wed: 9am - 7pm
Thu & Fri: 9am - 6pm
Sat: 9am - 4:30pm
Sun: Closed
TBR® Inspection Report: