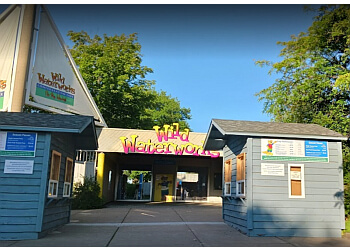 Wild Waterworks in Hamilton is a renowned destination for summer fun suitable for all ages. It boasts Canada's largest outdoor wave pools, providing endless excitement. With three pavilions, Wild Waterworks is perfect for groups of any size, ensuring fun and enjoyment for everyone. Their menu offers a diverse selection of items to keep you satisfied throughout the day. With over five million liters of heated water cascading down every minute, you'll be immersed in a thrilling water adventure. For convenience and great value, they encourage guests to consider purchasing Season Passes and Day Passes. Your children will undoubtedly be thrilled to spend the day in their wading pool equipped with slides, sprays, mists, and fountains. At Wild Waterworks, you'll find a perfect atmosphere maintained to a high standard of cleanliness. They provide life jackets on a first-come, first-serve basis for added safety. When you need to take a break, their food concessions offer delicious food, drinks, and frozen treats, allowing you to relax and recharge. For an even more enjoyable experience, you can opt for a private cabana. Ideal for small parties, the cabana offers poolside service, comfortable lounge chairs, and a table with chairs, making your visit even more delightful and memorable.

UNIQUE FACTS:
• Five Million Litres of Heated Water Splashes Down Every Minute
• Six Exciting Slides
• Night Rider and Blue Demon Tube Rides.
Specialty:
Blue Demon, Wave Pool, Tube and Bodey Slides, Eazy River, Night Rider, Little Squirt Works, Kids Slide, Vertigo, SideWinder, Birthday Parties & Special Events
$Price:
Individual Admissions - Regular & Sundown
General (ages 11-64) - $31.24 & $25.04
Children (ages 3-10) - $20.04 & $15.97
Person with A Disability/their Attendant (each) - $20.04 & $15.97
Senior (65+ Years of Age) - $26.90 & $21.46
Toddler (children 2 and Under) - Free Individual Season Pass (Ages 3+) - $110.31
Family Season Pass (Four Season Passes) - $342.70
Additional Family Member Pass (only available with the purchase of Family Pass - $89.56

Contact:
Working Hours:
Wed-Sun: 11am - 7pm
Mon & Tue: Closed
TBR® Inspection Report: