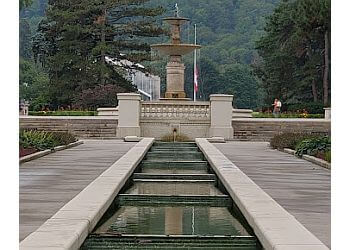 Gage Park stands as Hamilton's quintessential historical and cultural haven, revered for its remarkable legacy. Within Gage Park, breathtaking gardens flourish alongside a historical fountain and a diverse array of trees. This park is thoughtfully designed to function as a community focal point, offering opportunities to engage with its attractions. The greenhouse serves as an educational hub and can be rented for special occasions, including capturing wedding moments. Adding to its allure, the tropical conservatory within the park stands as a distinctive highlight within Hamilton's eastern landscape. Gage Park exudes vitality by hosting an array of events, festivals, and jubilant celebrations. The park's multifaceted offerings include children's museums, verdant greenhouses, sports facilities, playgrounds, and a captivating bandshell. Welcoming visitors daily, Gage Park extends an invitation to unwind and immerse oneself in the tranquil embrace of nature.

UNIQUE FACTS:
• 14,000 square-foot
• Greenhouse
• Subtropical plants
• Unique species
• Palm trees.
Specialty:
Jogging, Frisbee, Volley Ball Courts, Kids Grounds, Restrooms, Gardens, Fountains, Baseball, Bike Riding, Pond, Trees, Dog Parking, Slides, Swings, Wooden Benches, Picnic Tables, Walking Trails, Bicycling & Open Space
Contact:
Working Hours:
TBR® Inspection Report: