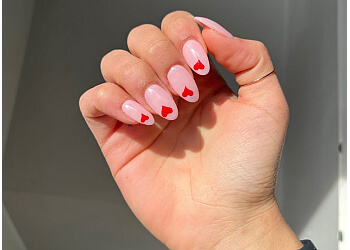 L'Amour Nails, a Hamilton-based nail salon, is dedicated to offering top-quality services at affordable prices. Specializing in manicure, pedicure, shellac, gel extensions, waxing, and tinting, they strive to provide safe, reliable, and innovative nail services using the latest products and techniques. At L'Amour Nails, you'll find a friendly and welcoming atmosphere, where experienced nail art designers with comprehensive knowledge of manicures and pedicures cater to your every need. Personalized client service is their priority, ensuring each visitor enjoys a wide range of treatments performed by expert technicians. With eight conveniently located salons, L'Amour Nails boasts a team of over 80 skilled technicians, ready to deliver exceptional services across all their locations. Gift cards are available for those seeking to treat their loved ones to the luxury of L'Amour Nails' nail treatments in a warm and inviting setting.

UNIQUE FACTS:
• Good Customer Service
• Excellent Nail Designs
• Professional Staffs.
Specialty:
Pedicure, Manicure, Color Soak Off Gel, Design Glitter Nails, Nail Repair, Nail Removal, Paraffin Treatment, Hand Design, Paraffin Wax Hands and Toes, Fills, Tinting & Eyelash Extention
$Price:
Classic Manicure $25
Deluxe Manicure $30
Signature Manicure $35
L'amour Manicure $40
French Manicure $30
Buff and Polish $12
Paraffin Treatment $15
Shellac Manicure $37
French Shellac Manicure $42
Shellac Polish $25
French Shellac Polish $30

Shellac Off only $13
Shellac Off w/ New set $5
DIP NAILS:
With tips $55
Without tips $45
Dip Nails take-off w/ full set $10
BIO SCULPTURE:
Full $60
Fill $45
POWDER GEL:
Full $50
Fill $40
ACRYLIC:
Full $42
Fill $36
Take Off only $20
Take Off w/ Full set $10

Contact:
Working Hours:
Mon-Fri: 10am - 9pm
Sat: 9:30am - 6pm
Sun: 11am - 6pm
TBR® Inspection Report: