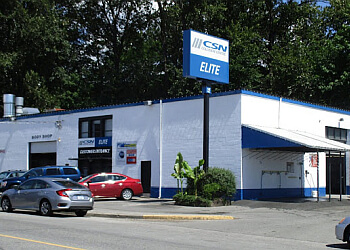 CSN Elite Body Shop, led by owner Wade Bartok, stands as an autonomous collision repair establishment that prioritizes safety, dependability, and customer trust in addressing vehicle damage, regardless of its extent. Their proficient certified technicians undergo training to swiftly and securely restore your vehicle to a pristine state. With a specialization in vehicle repairs, the CSN Elite Body Shop crew ensures a flawless paint color match for all vehicle makes and models. They guide you through the optimal repair techniques for your car and provide comprehensive information about the repair process. Utilizing cutting-edge equipment, the skilled technicians at CSN Elite Body Shop meticulously restore your vehicle to its original condition. Each collision repair is supported by a nationwide lifetime warranty, and collaboration with insurance companies is part of their service. Offering complimentary quotes for repairs and services, CSN Elite Body Shop is part of the innovative network of independently owned and operated collision repair facilities known as CSN Collision Centres. Their offerings encompass 24-hour towing, accident support, and computerized estimates, ensuring a comprehensive service experience.

UNIQUE FACTS:
• National Lifetime Warranty
• 24-Hour Towing
• Accident Assistance
• Certified Technicians
• Insurance Claims Support.
Specialty:
Collision and Auto Body Repair, Scratch and Dent Repair, Windshield and Glass Repair, Vehicle Paint, Paintless Dent Repair & 24-Hour Towing
Contact:
Working Hours:
Mon-Fri: 7:30am - 5pm
Sat & Sun: Closed
TBR® Inspection Report: