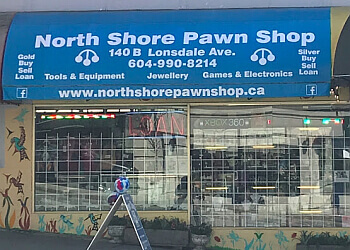 North Shore Pawn Shop is a highly regarded pawn shop located in North Vancouver, Ontario, and has been a trusted part of the community since the year 2000. They specialize in offering a wide array of both new and used items to cater to various needs. Beyond their extensive inventory, North Shore Pawn Shop provides a valuable lending service, allowing you to use your quality items as collateral. The shop's knowledgeable owner is known for offering fair and transparent dealings when pawning items, ensuring a trustworthy experience for customers. Adding to their reputation, the shop maintains a friendly and professional staff who consistently prioritize excellent customer service. With a diverse range of offerings, including tools, electronics, instruments, one-of-a-kind jewelry, and other unique items, North Shore Pawn Shop is a go-to destination for various needs. Committed to upholding government regulations, North Shore Pawn Shop takes pride in maintaining a clean and organized store environment. They continue to serve the North Vancouver community with dedication and integrity.

UNIQUE FACTS:
• Affordable Costs
• Extensive Collections
• In-Store Pickup
• In-Store Shopping.
Specialty:
Loans, Gold, Buy, Sell, Jewellery, Watches, Chains, Diamond, Hand and Power Tools, Air Tools, Safety Equipment, Game Systems, Cameras, Audio, Video, Ipods and Mp3 Players, Accessories, Toolboxes, HD/DVD and Audio/Video Electronics, Music, Movies, Games, Musical Instruments, Guitars, Flutes, Clarinets & Saxophones
Contact:
Working Hours:
Tue-Sat: 10am - 5pm
Sun: 12pm - 5pm
Mon: Closed
TBR® Inspection Report: