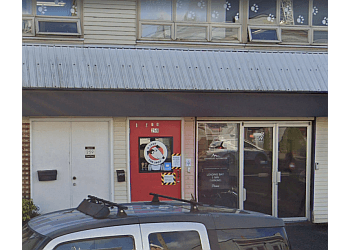 A spot for spot dog grooming holds a prominent status as one of the longest-standing grooming establishments in North Vancouver. Their service is not only exceptional but has also garnered multiple awards, solidifying their reputation. With a grooming legacy spanning three decades, they've remained a steadfast presence in the industry. Their foremost goal is to offer top-tier grooming services at reasonable rates, placing a strong emphasis on the safety and well-being of their furry clients. Ensuring the utmost comfort and health of the dogs they serve is a priority for them. Their commitment to quality grooming at affordable prices remains unwavering. Their grooming approach and care philosophy are thoughtfully crafted to mitigate stress and fatigue, while simultaneously promoting overall well-being and mental health. This thoughtful methodology underscores their dedication to the holistic experience of the pets they cater to.

UNIQUE FACTS:
• Huge, Clean, Bright 3,500sq Ft Supervised Indoor Play Area
• Friendly Staff & Dogs to Socialize, Romp, Wrestle, Hang Out, Explore and Play with
• Dogs of All Breeds, Ages, Shapes and Sizes.
Specialty:
Drying, Ears, Pads, Nails, Bathing, All Trimming and Tidying Necessary. De-Mat, Specialty Shampoos & Day Care
$Price:
Small Dog:
Hourly (up to six hrs) $6.88/hr
Full Day (6+ hrs) $40.59 (6+ hrs)
5 Day Pack $173 (~36/day x5)
10 Day Pack $325 (~33/day x10)
20 Day Pack $593 (~30/day x20)
30 Day Pack $767 (~26/day x30)
10 Half Days (4 hr max) $221 (~22/half day)
Regular Dog (25+ lbs):
Hourly (up to six hrs) $6.88/hr
Full Day (6+ hrs) $40.59 (6+ hrs)

5 Day Pack $188 (~38/day x5)
10 Day Pack $354 (~35/day x10)
20 Day Pack $646 (~32/day x20)
30 Day Pack $836 (~28/day x30)
10 Half Days (4 hr max) $242 (~24/half day)
Large Dog (75+ lbs):
Hourly (up to six hrs) $6.88/hr
Full Day (6+ hrs) $40.59 (6+ hrs)
5 Day Pack $193
10 Day Pack $364
20 Day Pack $664
30 Day Pack $859
10 Half Days (4 hr max) $247 (~25/half day)
Additional Dogs:
Hourly (up to six hrs) $6.88/hr
Full Day (6+ hrs) $27.52 (6+ hrs)
5 Day Pack $127
10 Day Pack $240
20 Day Pack $438
30 Day Pack $567

Contact:
Working Hours:
Tue-Sat: 8am - 6pm
Mon & Sun: Closed

TBR® Inspection Report: