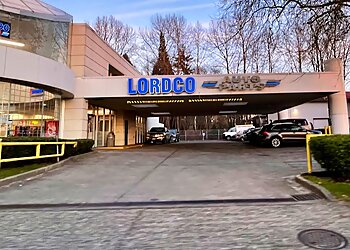 Lordco Auto Parts boasts an impressive inventory of parts, accompanied by a team of exceptional and helpful staff who offer knowledgeable advice. They cater to all your fluid needs, provide a range of tools, and offer custom engine parts for aesthetic enhancements under the hood. Lordco Auto Parts is an outstanding store for those seeking parts and hardware. Their trusted and knowledgeable experts are here to ensure that you have access to the aftermarket parts and accessories that keep your wheels turning on the road, enable your 4x4s to conquer off-road terrains, and keep your RVs on the move. With decades of experience, their skilled journeymen excel in custom street and strip engine restoration work and high-performance engine builds. Their equipment specialists have long aided autobody shop managers and owners with all aspects of automotive equipment, from procurement to installation and repair of car lifts. They consistently uphold a high standard of customer service by offering convenient shopping options and in-store experts to address specialized requests. Their extensive industry experience equips them to provide valuable insights and quotes to guide your decisions.

UNIQUE FACTS:
• Efficient Remote Warehouse
• Comprehensive One-Stop Machine Shop
• Expertise in Equipment
• High-Quality Premium Materials.
Specialty:
Air Conditioning, Ignition Coils, Door Actuators, Fuel Supply, Batteries, Block Heaters, Oil Coolers, Brake Master Cylinders, Oil Cooler Lines, Chassis Parts, Sensors, Harmonic Balancers, Engine Control Products, Bearings/Seals, Electric/Brake Pads and Shoes, Coil Plug Boots, Blower, Filters, Pistons, Accessories, Fuses, U-Joints & Idle Air Values
Contact:
Working Hours:
Mon-Sat: 8am - 6pm
Sun: 9am - 5pm
TBR® Inspection Report: