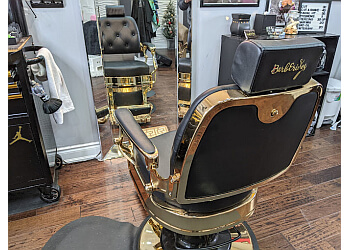 Barberikos is the ultimate destination for all your hairstyling requirements, including fades, trims, lineups, and razor work. At Barberikos, they hold their craft in high regard and are dedicated to delivering exceptional service to each and every client. Their barbers are flexible and accommodating, ensuring that your appointments align with your schedule. Their reliability, courtesy, and warm demeanor contribute to a welcoming and comfortable atmosphere at the shop. Barberikos offers distinctive hair treatment services that will leave you confidently striding through town, proudly showcasing your fresh hairstyle. Their unwavering commitment is to provide the utmost professionalism in their services. Don't hesitate to schedule an appointment with them and witness the transformation they can bring to your hair.

UNIQUE FACTS:
• Comfortable enviroment
• Professional services.
Specialty:
Haircut, Beard Combo, Beard Only(shave/trim/lineup/fade), Eyebrows, Trim, Shaping, Beard Colour (Black or Brown), Ear Piercing, Hair & Beard Products
$Price:
Haircut $30
Haircut & Beard Combo $40
Kid's Cuts $30
Beard $20
Eyebrows $5
Beard Colour $10
Facial & Hot Towel $50
Ear Pierce $30 and up

Contact:
Working Hours:
Mon-Fri: 10am - 8pm
Sat: 10am - 6pm
Sun: Closed
TBR® Inspection Report: