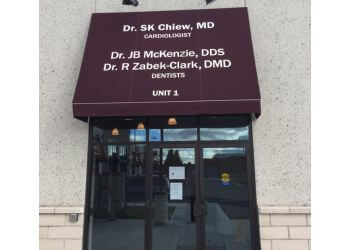 CALL
DR. SK SEAN CHIEW - FOURTH AVENUE CARDIAC CLINIC
Since 2012
Dr. SK Sean Chiew attained his degree from Dalhousie University, beginning his educational journey. His internal medicine residency was completed at Memorial University, followed by a cardiology fellowship at the University of Western Ontario. Dr. SK Sean Chiew's area of expertise encompasses transthoracic, transesophageal, and stress echocardiography. Dr. SK Sean Chiew has established his professional base while practicing at Fourth Avenue Cardiac Clinic. The clinic in Niagara aspires to be a recognized leader, providing exceptional and innovative community cardiology services. Their mission resonates with a commitment to delivering high-quality cardiology care to their patients. The vision of Fourth Avenue Cardiac Clinic is to be acknowledged as the foremost provider of a superior standard of integrated and innovative community cardiology services in the Niagara region, in collaboration with the Niagara Health System, Hamilton Health Science Center, and tertiary health centers in other regions. Moreover, Dr. SK Sean Chiew's linguistic versatility extends to proficiency in English, Mandarin, and Cantonese, ensuring effective and inclusive communication. His dedication to both medical excellence and patient care shines through in his practice. Dr. SK Sean Chiew is a Fellow of The Royal College of Physicians of Canada and the American College of Cardiology.

UNIQUE FACTS:
• Board Certified Cardiologist
• Flexible appoitnements
Sub-Specialized in Transthoracic Echocardiography, Stress Echocardiography and Transesophageal Echocardiography.
Specialty:
PROCEDURES:
Electrocardiogram (ECG), Holter Monitoring, Loop Recorder, Left Ventricular (LV) Function Study, Stress Echo, Echocardiogram, Cardiac Consultation, Heart Attack and Failure, Treadmill Exercise Stress Test & Cardiomyopathy
Contact:
Working Hours:
Mon-Fri: 9am - 5pm
Sat: By Appointment
Sun: Closed
TBR® Inspection Report: