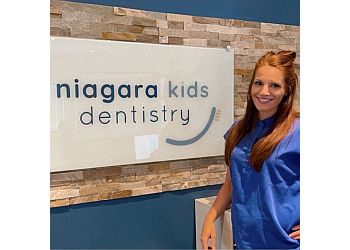 Dr. Erin Goertzen became a valued member of the Niagara Kids Dentistry group in 2020, upholding her dedication to delivering considerate and individually tailored dental healthcare to young patients in the Niagara region. Her academic journey began with a Bachelor of Science degree with honours in Biology from Queen's University in 2011. In 2014, she achieved a Master of Science degree in Anatomy and Cell Biology from the University of Western Ontario. Subsequently, she successfully earned her Doctor of Dental Surgery degree from the University of Toronto. Dr. Goertzen further advanced her expertise by completing her Master of Science program in Pediatric Dentistry at the University of Toronto in 2022. Throughout this program, she gained extensive proficiency in diverse aspects of pediatric dental care, ranging from infant oral health and preventive treatments to restorative procedures, behaviour management, dental trauma handling, and various anesthesia techniques, including minimal, moderate, and general anesthesia.

UNIQUE FACTS:
• No Referral Necessary.
• Niagara Kids Dentistry has over 30 years of experience as a Pediatric Dentist.
• Emergency care is provided promptly during office hours.
• Positive dental experiences with TV over every chair.
• Convenient appointments in a handicapped accessible office.
Specialty:
CONDITIONS:
Thumb Sucking, Toothache, Broken Tooth, Cavities & Tooth Decay

PROCEDURES:
Preventative Care, Tooth Coloured Fillings, General Anaesthesia, Crowns, Fluoride Treatment, Laser Surgery, Emergencies, Esthetic Pediatric Dentistry, Fluorosis, Habit Appliances, Restorative Treatment, Radiographs, X-rays & Dental Sealants
Contact:
Working Hours:
TBR® Inspection Report: