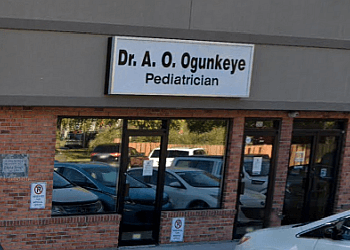 CALL
DR. ALARAPE OGUNKEYE
Since 1999
Dr. Alarape Ogunkeye is one of the leading pediatricians in St Catharines, ON. She earned her medical degree from the University of Ibadan College of Medicine in 1999. With her pediatrics training completed in 2010, she has amassed 24 years of dedicated experience within the pediatric field. She is recognized for her extensive knowledge, excellent bedside manners, and unwavering advocacy for children. Her dedication extends to after-hours, as she goes the extra mile by making calls and providing support even outside regular consultation times. Her proficiency encompasses diagnosing and treating a diverse range of childhood illnesses, spanning from minor health concerns to more serious conditions. Dr. Alarape Ogunkeye's scope of care extends across children's physical, behavioral, and mental well-being from infancy to adolescence. Notably, her approach fosters a sense of happiness and well-being among infants under her care. She also prioritizes transparency and effective communication with parents, explaining intricate details about their children's health. Her commitment to comprehensive care is reflected in her clinic ownership in St Catharines, ON, where her exceptional service garnered community acknowledgment. Her affiliation with Niagara Health System, St Catharines General Site.

UNIQUE FACTS:
• Languages Spoken: English, Yoruba
• Active Member as of 20 Jul 2010
• Independent Practice as of 20 Jul 2010
• Now accepting new patients.
Specialty:
CONDITIONS:
Pediatric Consultations, Fever, Flu, Common Cold, Injuries & Urinary Track Infections
Contact:
Working Hours:
Tue: 9:30am - 5pm
Wed-Fri: 9am - 5pm
Mon,Sat & Sun: Closed
TBR® Inspection Report: