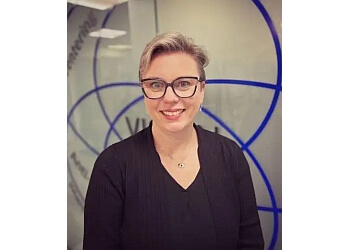 Dr. Marianne Hopkins brings a diverse background to her practice, holding bachelor's and Ph.D. degrees in Molecular Biology and serving as a genetics researcher for a decade. In 2016, she earned her Doctorate of Optometry from the University of Waterloo. Her training equips her to adeptly diagnose various ocular diseases, including those stemming from diabetes, glaucoma, macular degeneration, and more. An active member of esteemed organizations like the Ontario Association of Optometrists, Canadian Association of Optometrists, and Optometric Extension Program Foundation, Dr. Marianne Hopkins extends her expertise to patients of all ages. She specializes in addressing binocular vision dysfunction, strabismus, and amblyopia, displaying a profound commitment to providing precise and comfortable vision for everyone. Currently, Dr. Hopkins practices at Dr. Hopkins & Associates Optometry, where the optical selection boasts an extensive array of designer frames and contact lenses, ensuring both clear vision and a sophisticated appearance.

UNIQUE FACTS:
• Emergency Eye Care
• Services Are Available by Appointment.
Services:
CONDITIONS:
Pediatric Eye Care, Cataract, Glaucoma, Retinal Lesions, Extraocular Muscle Surgeries and Management, Infections and Bacterial Eye Infections

PROCEDURES:
Contact Lens Examination and Fitting, Safety and Sports Eyewear, Vision Therapy, LASIK and Laser Surgery Consultation and Co-Management & Visual Field Screening
Insurance Accepted:
Blue Cross Medavie, Cinup, Chamber Of Commerce, Cowan Insurance Group, Desjardins, First Canadian, Great West Life, Green Shield Canada, Industrial Alliance, Johnson, Johnston Group, Manulife, Maximum Benefit & Sun Life Financial
Contact:
Working Hours:
Mon & Fri: 8:45am - 6pm
Tue-Thu: 8:45am - 5pm
Sat & Sun: Closed
TBR® Inspection Report: