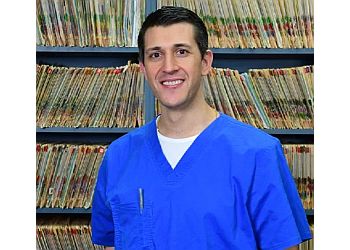 Dr. Anthony B.B. Olivieri stands as a prominent figure within the cosmetic dental field in Hamilton. His journey led him to obtain his Doctor of Dental Medicine Degree from Western Reserve University School of Dental Medicine. He is characterized by his unwavering commitment to overseeing his patients' well-being from the inception to the completion of their treatments. Dr. Anthony's approach is characterized by offering an extensive array of dental services aimed at addressing a wide spectrum of oral health concerns, all within the confines of his office. His professional practice finds its base at Olivieri Dental Care. Notably, their comprehensive range of general dental services caters to individuals across all age groups. children, teenagers, and adults . contributing not only to improved oral health but also to overall well-being. At Olivieri Dental Care, Dr. Anthony, alongside his dental team, strives to rejuvenate your radiant smile through tailored treatments. Their approach is grounded in enhancing oral health, which in turn has a positive impact on overall health. The clinic's dedication to encompassing a broad scope of general dental services echoes their commitment to serving patients of diverse age groups and ensuring comprehensive well-being.

UNIQUE FACTS:
• They Provides Direct Billing to Insurance & Financial Plans
• They Offer Free Consultations.
Specialty:
Teeth Whitening, White Fillings, All Ceramic Crowns, Veneers, Bonding, Root Canal, Restorative, Prosthodontics, Periodontics, Porcelain / Ceramic, Crowns, Veneers & Composite (White Fillings)
Contact:
Working Hours:
Mon-Thu: 8am - 5pm(By Appointment Only)
Fri: 9am - 5pm
Sat & Sun: Closed
TBR® Inspection Report: