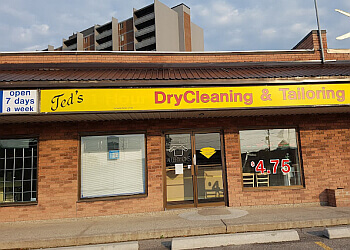 CALL
TED'S DRY CLEANERS
Since 1999
Ted's Dry Cleaners is a renowned specializing in dry cleaning services in Oshawa, ON. They are committed to excellence, their mission centers around delivering supreme quality, unparalleled service, and exceptional value within the realm of dry cleaning businesses across Ontario. With a strong environmental consciousness, the company diligently pursues eco-friendliness. Their cleaning methodology relies solely on a gentle, environmentally-safe, non-toxic dry-cleaning solution. Their unwavering pledge entails not only meeting but surpassing the elevated benchmarks and anticipations set by their clientele for their garments. Boasting a comprehensive spectrum of alteration services, executed by their proficient team, their store shines as a hub for clothing transformations. The staff, characterized by their affability, expertise, and helpful demeanor, lends a supportive hand to every customer. Every garment, from intricate pieces to minor alterations like pant hemming, undergoes their meticulous dry-cleaning process, ensuring its preservation. Through these practices, they foster enduring connections with their patrons, solidifying their status as a preferred choice.

UNIQUE FACTS:
• Chemical-Free Cleaning
• Fast Pick-Up and Delivery
• Reasonable Prices.
Specialty:
Dry Cleaning, Shirts, Suits, Coats, Household Items, Blankets, Bedspreads, Tablecloths Cleaning Services, Pants, Jeans, Beaded Garments, Comforters, Gowns, Prom Dress & Blouses
Contact:
Working Hours:
Mon-Fri: 8am - 7pm
Sat: 9am - 5pm
Sun: Closed
TBR® Inspection Report: