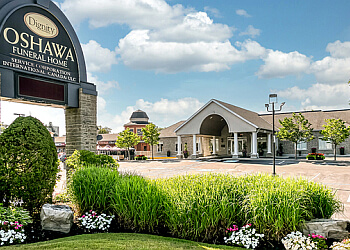 Oshawa Funeral Home stands as a place of solace and commemoration, equipped with a sizable chapel capable of accommodating up to 250 individuals. With a focus on traditional memorial services for friends and neighbors, the funeral home's purpose is to forge enduring and meaningful memories, both professionally and personally. Drawing upon years of extensive experience and a genuine passion for assisting families from diverse backgrounds, the funeral home is dedicated to ensuring everyone feels at home, crafting exceptional services that honor lives lived. The facility offers flexible event and chapel spaces, while their attentive funeral directors provide meticulous, white-glove service. At its core, Oshawa Funeral Home is dedicated to delivering professional and deeply personal memories that resonate through time. Furthermore, they offer a range of services including upright headstones, flat markers, and police escort services. Whether guiding you through a direct cremation, a memorial service, or a comprehensive funeral service with or without cremation, their expertise encompasses all aspects of the process.

UNIQUE FACTS:
• Intimate gatherings
• 100% Service Guarantee.
Specialty:
Tribute Video Production, Scattering Assistance, Arrangements, Cemetery Flower Delivery, Catered events, Cremation, White glove service, Catering, Audio and Video Equipment, Outdoor Celebrations, in-Home Visitations, Multicultural Funerals, Incense burning, Ritual Washing, Event Planning, Live Music, Black Car Service & Option for Home Delivery of Ashes
Contact:
Working Hours:
TBR® Inspection Report: