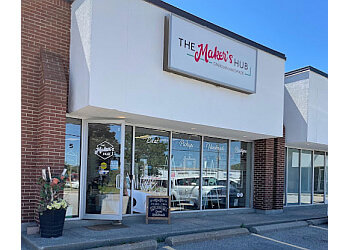 The Maker's Hub is driven by the vision to elevate local artisanal brands into household names, enriching the surrounding community. Cheryl Wilson is the founder of The Maker's Hub. Her determination to address porch pickup challenges, personally and for fellow creators, led to the inception of this endeavour. Today, their commitment remains unwavering as they continue spreading joy through their services, uplifting local enterprises, and fostering growth. Over time, their scope has expanded to encompass providing convenient pickups and presenting a curated selection of premium Canadian-made products within a boutique ambiance. A distinctive aspect of their journey involves hosting engaging Live Shopping Shows, creating an interactive and entertaining shopping experience. Their mission is to consistently ignite creativity, inspire positive growth, and foster authentic connections. In their inclusive space, everyone is welcomed, reflecting their dedication to nurturing meaningful relationships and cultivating an environment that brings people together.

UNIQUE FACTS:
• Shop Online, in Person, and By Text
• Shipping Canada Wide and Local Pickup Available
• No Added Service Fees at Checkout.
Specialty:
Accessories, Artwork, Baby + Kids, Baking + Treats, Bath + Beauty, Boutique Exclusive, Christmas, Clothing, DIY, Gift Cards, Fashion, Gifts, Home Decor, Knits, Masks, Novelty, One of a Kind, Party Decor, Pets & Plants
$Price:
Iriz Studios $6.00
Clear Green Slime Dino $12
Beachcomber Creations $35
Clear Blush Pink Slime Donut $12

Contact:
Working Hours:
Wed, Fri & Sat: 10am - 4pm
Thu: 10am - 7pm
Sun,Mon & Tue: Closed
TBR® Inspection Report: