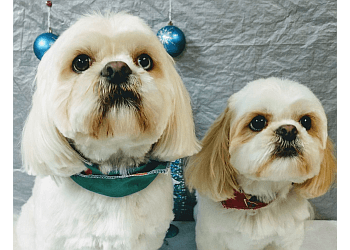 Durham Dog Grooming stands as a prominent pet grooming establishment renowned in Whitby. Their distinctiveness lies in their dedication to a Cage-Free Grooming Salon setup, providing your cherished companion the freedom to engage with fellow visitors or simply relish the ambiance from a secure and comfortable resting space. The grooming staff, possessing more than a decade of professional experience, exude both expertise and affection in equal measure. Utilizing exclusively top-tier shampoos and conditioners, Durham Dog Grooming follows up with a tailored drying process designed to eliminate delicate undercoats and dander effectively. The ethos of treating your dog as a cherished member of their own family underscores their approach, ensuring the highest level of care and attention. This commitment to ensuring the well-being of your pet characterizes Durham Dog Grooming's philosophy and practice.

UNIQUE FACTS:
• Highest Quality Shampoos and Conditioners
• Full Breed Clip and Customized Clip
• Certified Professional Grooming Stylists
• Excellent Service, Competitive Pricing and Flexible Appointments.
Specialty:
Nail Trimming, Bandanna, Brush Out, Deep Cleansing, Tidy Session, Professional Scissored Breed Style or Basic Clip, Bath, Ear Cleaning to Eliminate Wax, Personalized Drying, Gland Expression, Paw Cleanup, Dirt & Odor
Contact:
Working Hours:
Tue -Sat: 8am - 5pm
Sun & Mon: Closed
TBR® Inspection Report: