Patzia Gonzalez, RP - HEALING HEARTS CENTRE
Patzia Gonzalez is a Psychotherapist in Newmarket, specializing in Gestalt and client-centered approaches. Patzia Gonzalez, RP - HEALING HEARTS CENTRE is one of the Three Best Rated® Marriage Counselors in Newmarket, ON.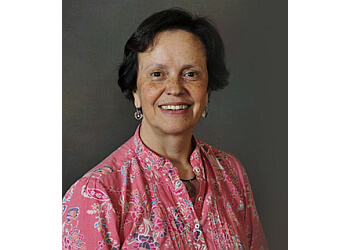 She holds clinical membership in OSP, is an EFT master practitioner, and is skilled in cognitive behavioral therapy (CBT). She is a proud graduate of the Universidad Nacional Autónoma de México. Patzia Gonzalez's expertise lies in addressing spirituality, chronic pain, and relationship issues, drawing from her own experiences in navigating various relationships. Her therapy toolbox includes state-of-the-art energy therapy tools and emotional freedom techniques. She offers counseling and relationship therapy to guide you toward a happier and healthier life. Patzia Gonzalez is fluent in both Spanish and English and practices at the Healing Hearts Centre.


CONDITIONS: Anxiety

Depression

Panic Attacks

Grief and Loss

Couples

Life Transitions

Chronic Disease

Self-Esteem

Trauma

Work/Life Balance

Energy Therapies

Tapping/ Emotional Freedom Techniques

WSIB and MVA

Stress Management

Personal Development

Cognitive Behavioural Therapy

Spiritual

Individual & Holistic Psychotherapy
I feel very lucky to have found Patzia a few years ago when I was going through a very difficult and challenging time in my life. It wasn't only about the skills and knowledge she masters that help you acknowledge the root of the issues and face them, it was also about the empathy and wonderful connection we were able to create together. Patzia significantly contributed to the person I am today and for that I'll always be grateful.
It's amazing how quickly deep-rooted issues can be released. This is a result of Patzia's knowledge, skill, compassion and ability to connect with others. I am so grateful for the healing I was able to experience with Patzia's help and I now have an effective tool that I continue to use almost every day. Thank you Patzia.
I first went to see Patzia because I was struggling with coming back to Canada after having lived abroad for several years and I was starting to feel depressed to the point where it was getting in the way of my work and social life. I walked into her office and felt immediately better! It's spacious, warms and has a lot of light. In working with Patzia I was able to find a way to work through my feelings through a number of different techniques, and find my bearings. I've come out feeling lighter and more alive every time; it's been a process and we're still working on it, but I'm sure that it would have been ten times harder had I opted to go it alone. Thank you Patzia for your insight, skill, knowledge and warmth.
Mon-Fri: 9am - 5pm
Sat & Sun: Closed
Nearby Marriage Counselors in Newmarket: