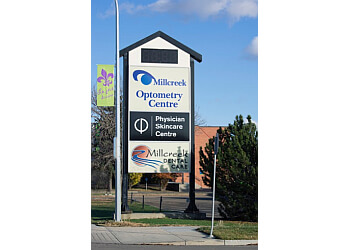 Millcreek Optometry Centre is dedicated to delivering exceptional eye care and providing top-quality eyewear to ensure optimal eye health and the best possible vision. Their team of optometrists and opticians is committed to offering premium eye care services and top-notch eyewear solutions. They prioritize building strong relationships with their customers and go the extra mile to ensure their satisfaction. Equipped with the latest cutting-edge technologies and products, the centre can effectively diagnose potential vision issues and detect eye diseases in their early stages, promoting proactive and preventive care. Millcreek Optometry Centre offers a diverse range of optical lenses from renowned manufacturers to cater to individual vision needs effectively. For kindergarten-age children enrolled at their clinic, the centre provides a one-time free pair of prescription glasses following an eye exam, demonstrating their dedication to supporting children's eye health. They take pride in their extensive selection of trusted name brands, including Alcon, Bausch & Lomb, Coopervision, and Johnson. In addition to their top-notch services, Millcreek Optometry Centre offers the convenience of Free shipping on most orders, making the eyewear purchasing experience even more accessible and hassle-free for their valued customers.
Specialty:
Visual Acuity, Binocular Vision Evaluation, Refraction for Glasses, Eye Glasses, Glaucoma and Macular Degeneration Screening, Contact Lens Fitting & Training
Discount:
iRedeem Member Discount-15% off all regular price glasses and sunglasses.
Contact:
Working Hours:
Mon: 8am - 6pm
Tue-Thu: 8am - 7pm
Fri: 8am - 5pm
Sat: 10am - 3pm
Sun: Closed
TBR® Inspection Report: