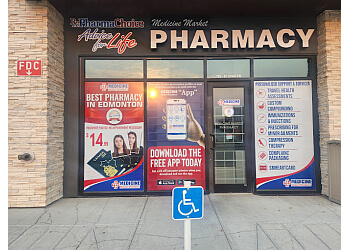 Medicine Market Pharmacy, a family-operated establishment, is well-versed and highly skilled in offering travel consultations, vaccinations, and medications. Their pharmacist will engage in a comprehensive medication assessment, addressing any inquiries you may have regarding your prescriptions. Additionally, they can offer recommendations, if deemed necessary, to enhance your medication regimen. The pharmacy also specializes in compounding creams and syrups. At the pharmacy, you'll find Mr. Shamas Arshad, a prescribing pharmacist and certified diabetes educator, who enjoys great popularity among their clientele and is consistently in high demand. Their commitment lies in efficiently and accurately serving their customers, always valuing timeliness. Through the Patient Login feature, customers have the opportunity to visually review their prescriptions prior to placing orders, ensuring transparency and confidence in their choices.

UNIQUE FACTS:
• In-store shopping
• Curbside pickup
• Delivery
• A1C Test done on the spot
• Passport photos for Canadian and International passports.
Specialty:
Conditions:
Allergy, Anxiety and Depression, Pain Management, Cold, Cough, Asthma, Quitting Smoking, Digestive Support and Respiratory Health, Home Care Medical Supplies, Ostomy Products & Continence Care

Procedures:
Compliance Packaging, Medication Reviews, Flu Vaccine, Immunizations, Compression Therapy, Specialty Medication Packaging, Compression & Support Stockings
Contact:
Working Hours:
Mon-Fri: 8:30am - 6pm
Sat: 10am - 5pm
Sun: 9am - 5pm
TBR® Inspection Report: