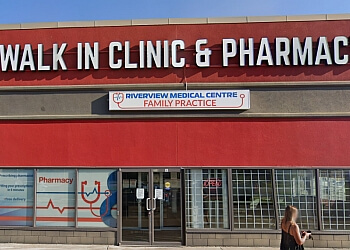 Riverview Medical Centre is dedicated to providing exceptional patient care within a secure and inviting environment, enhanced by convenient features in Edmonton. Their comprehensive range of medical services includes both family practice and walk-in options, ensuring that patients receive expert care from a proficient healthcare team. The clinic places a strong emphasis on excellence, favorable outcomes, and patient contentment. The team possesses a profound understanding of their patients' requirements, offering compassionate and respectful treatment to all. Riverview Medical Centre is committed to delivering cost-effective services with minimal wait times for clients. Introducing a novel medical approach, they simplify access to high-quality care, offering a viable alternative to addressing daily health concerns, without the burden of serious illnesses or injuries. The clinic fosters a welcoming atmosphere, ensuring patients' comfort during their visits.

UNIQUE FACTS:
• Phone Appointments
• Clinic is Clean and modern.
Specialty:
Joint Injections, Liquid Nitrogen for Treatment of Warts, Aclasta Treatments for Osteoporosis, Botulinum Toxin Treatments, Cough, Cold, Allergy, Flu Shots, Wounds and Lacerations, Minor Cuts, Sprains, Strains, Scrapes & WCB Injuries
Contact:
Working Hours:
TBR® Inspection Report: