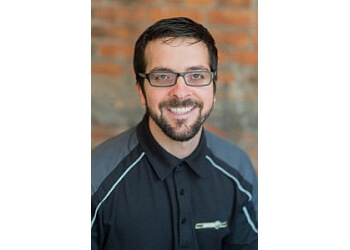 Thomas Eagles is a seasoned Osteopathic Manual Therapist associated with Freemotion Therapy. His academic journey led him to acquire a Bachelor of Science degree in Kinesiology from the prestigious University of Waterloo. With a commitment to professional excellence, Thomas is a duly registered Kinesiologist and an esteemed member of the College of Kinesiologists of Ontario. Thomas further pursued specialized training in Osteopathic Manual Therapy through the esteemed Canadian College of Osteopathy, effectively enhancing his therapeutic prowess. He proudly retains registration with the Ontario Association of Osteopathic Manual Practitioners. Thomas boasts an extensive career spanning over 16 years in the realm of healthcare, encompassing roles as a personal trainer, exercise physiologist, foot orthotic consultant, and manual therapist. Freemotion Therapy serves as the conduit for his expertise, offering a comprehensive array of services geared towards enhancing health, fitness, and overall well-being. Freemotion Therapy's approach seamlessly integrates a strong scientific foundation in Kinesiology, Massage Therapy, and Manual Osteopathy. This holistic approach is leveraged to not only diagnose but also treat a wide spectrum of injuries and pathologies. As a testament to their commitment, Freemotion Therapy takes pride in complementing conventional rehabilitation programs by effectively addressing injuries, pain, and discomfort, ultimately contributing to the overall rehabilitation or prevention process.

UNIQUE FACTS:
• Delivering Positive Outcomes
• Follows Holistic Health Principles
• Flexible Appointments Are Available.
Specialty:
CONDITIONS:
Musculoskeletal, Neurological, Digestive, Respiratory, Cranial Sacral, Cardiovascular, Reproductive Systems, Muscle, Fascia, Bones, Nerves, Circulation & Lymphatics
$Price:
Osteopathic Manual Therapy:
60 Minute $135
Osteopathy Kids 30 minutes $80
45 Minute 45 minutes $110
90 Minute Osteopathy 90 minutes $190

Contact:
Working Hours:
Mon-Thu: 9am - 9pm
Fri: 5am - 9pm
Sat: 10am - 4pm
Sun: Closed
TBR® Inspection Report: