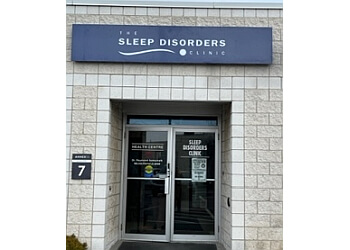 Sleep Disorders Clinic stands out as one of the premier sleep clinics in Hamilton. Their commitment to ensuring patient and physician satisfaction in sleep disorders is a cornerstone of their practice. Their primary objective is to address the needs of individuals with disabilities promptly and effectively. This clinic offers a comprehensive range of diagnostic and therapeutic sleep services, encompassing nighttime sleep studies and daytime assessments. With private bedrooms available across all three locations, they conduct sleep studies throughout the week, seven nights in total. Notably, the clinic has specialized expertise in catering to patients within bariatric programs. The Hamilton location offers various additional services, such as pulmonary function testing, spirometry, and exercise stress testing. These valuable services are extended to any patient who may be suspected of having a respiratory disorder. The clinic has invested in state-of-the-art equipment for pulmonary function testing, ensuring swift and precise results for patients. The clinic is well-equipped to provide swift care for those requiring immediate pre-operative polysomnograms (PSGs) and continuous positive airway pressure (CPAP) treatment. Urgent cases are addressed based on immediate needs. The clinic's experienced team tailors treatment plans to each patient's unique circumstances. They engage in comprehensive discussions about various treatment options, guiding patients toward the most effective solutions for managing their condition. Furthermore, the clinic streamlines the referral process with a convenient online referral system. In conclusion, the Sleep Disorders Clinic in Hamilton distinguishes itself as a leading facility in the realm of sleep disorders, offering comprehensive services, advanced diagnostics, and a commitment to personalized patient care.

UNIQUE FACTS:
• Home Sleep Testing
• Pediatric Sleep Services
• Consultation.
Specialty:
Insomnia, BiPAP, Continuous Positive Airway Pressure (CPAP), Hypoventilation Disorders, Obstructive Sleep Apnea, Depression, Dry Mouth in Morning, Restless Leg Syndrome, Maintenance of Wakefulness Tests, Snoring, Multiple Sleep Latency Tests (MSLTs), Narcolepsy, Respiratory Services, Hypersomnia & Periodic Limb Movement Syndrome

Serving Locations: Cambridge & St Catharines
Contact:
Working Hours:
Mon-Fri: 9am - 5pm|7:30pm - 6:30am
Sat & Sun: 5pm - 7pm|7:30pm - 6:30am
TBR® Inspection Report: