Deepti Chhabra, BPT, MPT, MCPA - SUNSTONE PHYSIOTHERAPY CLINIC
Deepti Chhabra completed her Bachelor's degree in Physiotherapy and Master's degree in Orthopaedic & Manual Physiotherapy from Manipal University. Deepti Chhabra, BPT, MPT, MCPA - SUNSTONE PHYSIOTHERAPY CLINIC is one of the Three Best Rated® Physical Therapists in Delta, BC.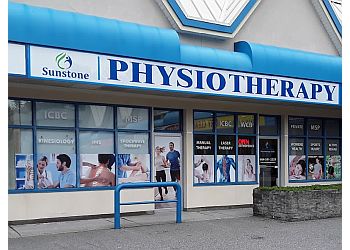 Her expertise encompasses muscle energy techniques for posture and pelvic alignment correction, as well as exercise therapy focusing on core stabilization to rectify muscle imbalances and restore function. Deepti maintains a commitment to continuous learning and actively engages in various workshops to stay abreast of the latest trends in physiotherapy techniques and practice. She currently practices as a physical therapist at Sunstone Physiotherapy Clinic. The clinic employs a range of effective techniques including mobilization, manipulation, soft-tissue massage, trigger point therapy, and stretching, ensuring that initial appointments with their experienced physiotherapist span from 45 to 60 minutes.


Sunstone boasts a satisfied client count of 6507.
Direct bill available.
CONDITIONS:
Neck

Orthopedics Conditions

Hip

TMJ and Knee Pain

Women Health Issues

Cervical Spondylosis

Rotator Cuff Injuries

Shoulder

Back

Golfers Elbow

Knee

Sports and Soft Tissue Injury

Headaches & Tennis Elbow

PROCEDURES:
Manual

Cold Laser and Shock Wave Therapy

Dry Needling & Post-Surgical Rehabilitation
Having visited two physiotherapists and a podiatrist over the course of the last two years. Nobody was able to correctly diagnose where the painful burning sensation in my knee was coming from - After a single session, Deepti had both correctly diagnosed the cause of my pain as well as removed it completely - absolutely amazing. I cannot describe the relief and feelings of happiness that I experienced as a result. Thank you again.
The physiotherapist treating me is Deepti Chhabra. She is very experienced and knowledgeable and has really helped my hip and shoulder problems with hands on treatment and advice about exercise. She is professional. cheerful, and thorough. I would definitely recommend Deepti, as well as the clinic in general, where they have a fully equipped gym and modern equipment.
I am very happy to recommend Deepti as anexpert physiotherapist who really knows her stuff and delivers high quality treatment and information.
Physiotherapy Initial Visit (45 mins) $85.00
Physiotherapy Subsequent visit (30 mins) $80.00
Physiotherapy Extended session (60 mins) $120.00
Shock Wave $95.00
IMS/Dry Needling $10.00

Sunlife, Great-West Life, Bluecross, Manulife, Standard Life & Desjardins Insurance
Mon-Fri: 9am - 7:30pm
Sat: 9am - 5pm
Sun: 9am - 2pm
Nearby Physical Therapists in Delta: