The Queen & Beaver Public House
The Queen & Beaver Public House is one of Toronto's finest and most authentic pubs. The Queen & Beaver Public House is one of the Three Best Rated® Pubs in Toronto, ON.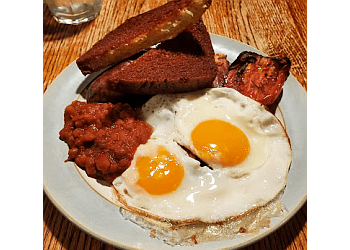 The pub's unique, rustic, and cozy ambiance makes it an ideal place. The bar area boasts an impressive selection of drinks, including whiskey, gin, vodka, spirits, rum, and more, all offered at attractive prices. They take pride in providing an exceptional range of Beers and Ciders from small producers. At the heart of their menu are delicious dishes crafted with prime-cut steaks and seasonal ingredients, expertly prepared by their team of skilled chefs led by Chef Duncan Simpson. The pub's commitment is to be an authentic neighbourhood establishment, serving fantastic from-scratch food alongside a great pint, classic cocktails, or excellent wines. For a delightful drinking and dining experience, try their hand-chopped cheeseburgers with chips and bacon, expertly paired with your hand-picked beverages. The Queen & Beaver Public House promises an unforgettable experience with its blend of delectable food and an enticing selection of drinks in a warm and inviting atmosphere. Enjoy their cozy upstairs den, inviting dining room, front terrace and rooftop patio. Walk-ins are more than welcome on their patios or in their bar. They also serve as a haven for sports enthusiasts, allowing them to watch the English Premier League and support their local professional teams.


Gift Cards
Dine in
Make an Indoor Reservation
Pickup
Accepts larger bookings for 9 or more person
Online Order.
MUST TRY DISHES: Pinot Grigio

Eggs Benedict

Corned Beef Hash and Sunny Eggs

Smoked Haddock Kedgereemushroom Pithivier

Golden Ale

Rosé and Red Wine

Cabernet-Merlot

Montepulciano

Draught

Cider

Sauvignon Blanc

Chenin-Viognier

Chardonnay

Chianti

Syrah

Pinot Noir

Sticky Toffee Pudding

Apple Cherry

Gin

Cocktails & Elderflower Collins
Our experience this evening at the Queen and Beaver has been nothing short of magnificent. To begin with, we were greeted by Hannah. What a wonderful, friendly, gregarious, and genuine lady. An absolute gem and terrific ambassador for this establishment. After sorting out our seating, we were served by Jed. Can not say enough about this gentleman. Knowledgeable and highly qualified, he was very helpful and friendly. The food itself was fantastic and we thoroughly enjoyed our meals (welsh rarebit, seafood pie and peas, roast pork chop with romesco sauce and shishito peppers) This was on our 17th anniversary and did we ever hit the jackpot by going to the Queen and Beaver on Elm Street, downtown Toronto! Cannot wait for our next visit.
Cute British pub with hearty delicious food. We sat on the 2nd floor which has a more casual vibe with couches, TVs and bar. Service was excellent. Drink selection had some classic UK pints. Food was British pub style with great flavours. We had the squash-chickpea-curry pie which had a lot of great spices and flavours with a nice tangy garnish. My friend had the cod fish and chips which were perfectly cooked inside and out.
Great Pub! Love the atmosphere, wonderful space. I had the Steak and onion pie and my wife had the Rib eye steak. Both dishes were extraordinary! Love the staff, very friendly. Thanks!
Snacks and Starters from $10
Mains Starts from $22
Puddings Starts from $11
Pub Favourites $26
Mon-Wed: 11:30am - 12am
Thu & Fri: 11:30am - 2am
Sat: 10am - 2am
Sun: 10am - 11pm