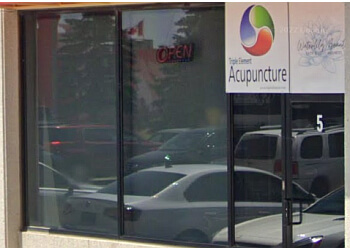 Triple Element Acupuncture is a prominent acupuncture clinic in Vaughan, ON. Within their inviting Chinese Medicine clinic, you'll discover a serene and comforting environment perfectly tailored for relaxation, restoration, and healing. A team of highly skilled acupuncturists forms the core of their practice, employing a holistic framework for health. Their approach delves into the fundamental origins of pain and ailments, fostering enduring well-being and healing. The center extends beyond acupuncture, offering various beneficial products, programs, and beverages to guide you toward a healthier lifestyle. With a comprehensive understanding of multiple conditions, they provide solutions for migraines, insomnia, fatigue, muscle pain, arthritis, anxiety, carpal tunnel, sinusitis, PMS, and more. David Miguez is a dedicated Registered Acupuncturist and Traditional Chinese Medicine practitioner, leads the team. His guiding principle empowers individuals to lead lives they cherish through natural medicine, mindful movement, and lifestyle decisions. He adopts an evidence-based systems-oriented approach, addressing the underlying causes of ailments across your body, mind, and spirit. Contact them today to secure an appointment and embark on your journey toward holistic well-being.

UNIQUE FACTS:
• 10 Years of Experience
• Individualized Care
• Holistic Approach
• Integrative Collaboration
• Individualized Care.
Specialty:
Acupuncture, Naturopathic Medicine, Inflammation and Gastro-Intestinal Health, Muscle Pain, Arthritis, Migraines, Fire Cupping, Massage, Spa Services, Herbal Medicine, Hypnosis & Reiki
$Price:
Chinese Medicine Visit:
Initial Visit $150
Follow Up $100
Naturopathic Visit:
Initial Visit $250
Follow Up $150
Massage Therapy:
Initial & Follow-Ups $120

Discount:
20% Off for ThreeBestRated Customers
Contact:
Working Hours:
Mon-Fri: 10am - 7:30pm
​Sat: 9am - 2pm
Sun: Closed
TBR® Inspection Report: