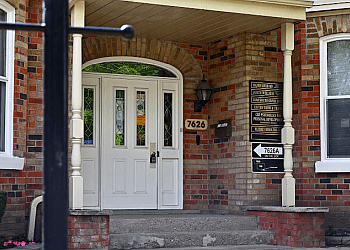 Sanlyn Wellness Centre emerges as a respected hub for hypnotherapy in Vaughan. Led by Lynton Friedman, a Certified Hypnotherapist accredited by the National Guild of Hypnotists, this center stands out for its reputable services. Lynton Friedman holds the distinction of being the first member in Canada to achieve Board Certification. With an impressive tenure of 12 years in the field, Lynton Friedman wields a wealth of experience. His approach amalgamates psychodynamic and cognitive-behavioural therapy techniques, fostering a gentle yet impactful means of guiding clients through their past experiences. He addresses emotional, physical, and spiritual concerns with swiftness and precision. His ability to establish a strong therapeutic rapport reflects his adeptness in communication and active listening. Sanlyn Wellness Centre extends its scope beyond hypnotherapy, offering a range of therapeutic modalities. These encompass Psychotherapy, Group Therapy, Past Life Therapy, Chakra Therapy, and Spiritual Healing, catering to a broad spectrum of wellness needs. The provision of a free 15-minute phone consultation showcases their commitment to fostering an informed and comfortable experience for potential clients. He is located at a convenient distance of 7.8 miles from downtown Vaughan.

UNIQUE FACTS:
• Hypnotherapy & Hypnosis
• Psychotherapy
• Spiritual Life Guidance
• Past Life Therapy
• Chakra Therapy
• Group Therapy
• Balance, Growth & Advancement
• Confidentiality
• Success Stories
• Client-Centered Setting
• Couples Therapy
• Free Parking Spaces
• Payment Options: Visa, Mastercard, American Express. Interac and Cash.
Specialty:
Quit Smoking, Weight Loss, Stress Management, Anxiety, Depression, Addictions, Pain Management, Phobias, Fears, Sleep Deprivation, Insomnia, Self-Esteem Enhancement, Confidence Building, Procrastination and Perfectionism, Sports Performance Optimization, Regressive Therapy, Increased Spiritual Connection, Motivation, Concentration, Goal Setting & Meditation
Contact:
Working Hours:
Mon-Thu: 9am - 7pm
Fri & Sat: 9am - 5pm
Sun: Closed
TBR® Inspection Report: