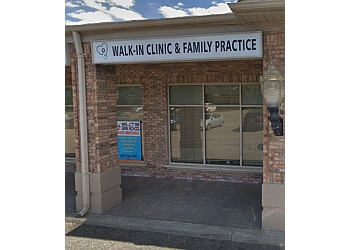 Team Maple Walk-in Clinic & Family Practice, led by Dr. Mahreen Razzaq MD, DABFM, CCFP, stands as a beacon of modern healthcare in Vaughan. Equipped with state-of-the-art medical equipment and cutting-edge technology, this clinic ensures top-tier medical care. With a strong focus on personalized service, they go beyond the ordinary to provide exceptional care that sets them apart. Patients benefit from a range of language options, including English, Urdu, Hindi, Punjabi, Persian, and Tamil. Their commitment to minimal wait times and a compassionate approach underscores their dedication to providing comprehensive Family Medicine Practice services in full compliance with the highest standards of care.

UNIQUE FACTS:
• Service provided in English, Urdu/Hindi, Punjabi, and Tamil
• Well equipped state of the art EMR clinic
• Appointments or simply walk in.
Specialty:
Allergy Shots, Urine Tests, Rapid Strep Test, Vaccinations, Flu Shots, Pregnancy Test, ECG, Skin Lesions, Driver's Medical Exam, Liquid Nitrogen for Warts, TB Testing, In House Lab, Rashes, Emergency First Aid, Suturing, Women's Health, Nebulizer Machine Treatment for Asthma, Sports Medicine & Drivers Medical Exams
Contact:
Working Hours:
Mon & Thu: 9am - 7pm
Fri: 9am - 6pm
Sat: 9:30am - 3pm
Sun: Closed
TBR® Inspection Report: