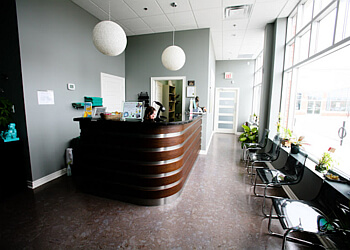 Modo Yoga offers a distinctive yoga series that melds therapeutic yoga's precision with traditional yoga's foundational principles, all within a specially heated environment. Modo Yoga Maple is an integral part of a collective of independent hot yoga studios that share a common commitment to fostering greater tranquillity in the world. At the helm of this venture is Jackie, who serves as both the Studio Director and a Teacher. After completing the Modo Yoga Teacher Training in Kerala, India, in March 2009, Jackie has undergone a transformative journey, developing a newfound appreciation for both those in her surroundings and herself. This journey has been enriched by further workshops and training sessions led by esteemed figures like Seane Corn, Natasha Rizopoulos, YuMee Chung, Tracey Soghrati, and many others. Notably, Jackie has twice completed the Modo Yoga Level 2 training in 2010 and 2014, participated in the Modo Flow training twice in 2011 and 2017, and delved into Yin Yoga in 2018. The classes at Modo Yoga Maple cater to individuals of all proficiency levels, even those who are absolute beginners or possess limited flexibility. This inclusive approach ensures that anyone can partake in and benefit from their yoga offerings.

UNIQUE FACTS:
• 5 Traveller Passes per Year to Practice at Different Modo Yoga Studios Worldwide
• Over 50 Studios Worldwide
• Offer Accessible Classes.
Specialty:
Modo, Karma Class, Karma, Modo Flow, Pilates, Barre Class, Barre, Yang/Yin & Restorative
$Price:
Introductory Offer - $70/30 Day Pass Modo Membership - $149/month

Discount:
15% Off for Selected Workshops and Most Retail Items
Contact:
Working Hours:
Mon: 9:15am - 1:30pm|5pm - 10:30pm
Tue: 9:15am - 1:30pm|4:30pm - 9:30pm
Wed: 9:15am - 1:30pm|5pm - 10:30pm
Thu: 9:15am - 1:30pm|4:30pm - 10pm
Fri: 9:15am - 1:30pm|5pm - 8:45pm
Sat & Sun: 9am-1:30pm
TBR® Inspection Report: