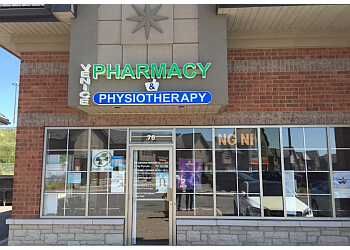 Venice Pharmacy stands as a prominent pharmacy situated in Vaughan, ON. Within their establishment, a cohesive team of devoted healthcare experts is resolutely committed to delivering individualized and exceptional care to their valued patients. Spanning a spectrum of services ranging from medication oversight to consultations and immunizations, they extend a diverse array of offerings meticulously designed to cater to the distinct requirements of each patient. Their team, distinguished by their wealth of knowledge and amiable demeanor, remains perpetually accessible to address queries, dispense guidance, and offer recommendations. This unwavering support aids their patients in making well-informed choices concerning their health and well-being, empowering them with the information needed for optimal decisions. At the heart of their mission lies an unwavering dedication to offering medication and healthcare products of the utmost quality at attainable costs, fostering an environment conducive to the pursuit of one's best life. Their pharmacist owner, Mr. Ferdous Amin, is a seasoned professional with over a decade of experience in the realm. His profound expertise and comprehensive training render him a beacon of exceptional care and unwavering support for their esteemed patients. Rest assured, their patrons can take solace in the knowledge that the care and guidance they receive are tailored impeccably to their individual needs. Venice Pharmacy remains steadfastly committed to upholding the highest standards, ensuring that each patient's journey is met with unparalleled care and attention.

UNIQUE FACTS:
• Refill your Prescription
• Minor Ailment
• Prescription Transfer.
Specialty:
Immunization, Compliance Packaging, Compounding, Medication Reviews & Rapid Antigen Test
Contact:
Working Hours:
Mon-Fri: 10am - 6pm
Sat: 10am - 2pm
Sun: Closed
TBR® Inspection Report: