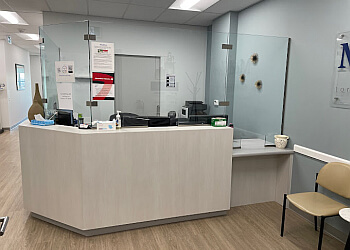 MedSleep-Toronto Sleep Institute is a premier establishment in the realm of sleep clinics within the Ontario region. Renowned for their commitment to excellence, the clinic's management is dedicated to providing the highest quality sleep medicine services within their locality and across Canada. Central to their operational success is their exceptional team of highly skilled professionals. This team comprises clinical research coordinators, a specialist in patient recruitment, and board-registered polysomnographic technologists, collectively contributing to a comprehensive and proficient healthcare experience. At MedSleep-Toronto Sleep Institute, the range of services offered is both comprehensive and cutting-edge. The clinic is adept at providing clinical consultation, diagnostic services encompassing sleep testing, and various treatments catering to various sleep disorders. Their approach is characterized by a multidisciplinary medical team that ensures a holistic approach to diagnosis and integrated treatment for various sleep-related issues. In diagnosing obstructive sleep apnea, MedSleep-Toronto Sleep Institute utilizes the home sleep apnea test (HSAT) or level 3 sleep study. Furthermore, the clinic employs the overnight polysomnogram (PSG) to delve into the root causes of excessive daytime sleepiness and diagnose an extensive range of sleep disorders. All HSAT testing conducted by MedSleep-Toronto Sleep Institute is meticulously scored by a registered sleep technologist and interpreted by a board-certified sleep physician, their commitment to accuracy and quality. For those seeking to benefit from the expertise of MedSleep-Toronto Sleep Institute, arranging an appointment is a simple step toward experiencing their comprehensive and compassionate care, thereby paving the way for a rejuvenating and peaceful sleep experience.

UNIQUE FACTS:
• Clinical Consultation
• In-Lab Overnight Sleep Testing
• Diagonsis
• Sleep Education.
Specialty:
Obstructive Sleep Apnea, Insomnia, Snoring, Periodic Limb Movement Disorder, Employee Shift-Work, Restless Legs Syndrome, Bruxism, Daytime Sleepiness, Fatigue, Sleep Walking, Night Terrors, Nightmares, Narcolepsy, Idiopathic Hypersomnia, Jet Lag & Circadian Rhythm Disorders
Contact:
Working Hours:
Mon-Fri: 9am - 5pm
Sat & Sun: Closed
TBR® Inspection Report: