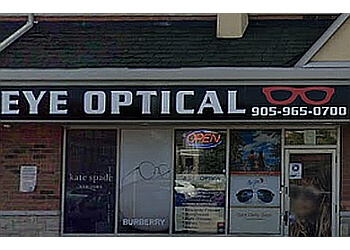 Eye Optical stands as an authorized retailer for a wide array of prominent designer frames, sunglasses, and contact lenses. This reputable optical establishment finds its presence established in both Brampton and Vaughan. Their proud distinction lies in their esteemed local standing, catering to the needs of individuals across age groups with comprehensive adult and children's eye exams as well as prescription lenses. At the core of their establishment are adept opticians who bring forth their considerable skill and experience to address your varied visual requirements. Equipped with the latest diagnostic tools, they administer thorough and comprehensive eye examinations. These services extend their embrace to individuals of diverse age ranges, encompassing teens, children, young adults, and seniors alike. Eye Optical presents a comprehensive selection, offering an extensive range of single-vision, bifocal, and progressive prescription eyeglasses, complete with high-definition, UV-resistant, and scratch-proof lenses. Strategically positioned, Eye Optical's location lies a mere 1.8 miles away from downtown Vaughan.

UNIQUE FACTS:
• In-Store Shopping, Pickup, and Delivery
• Provide a Variety of Eye Care Services and Products Across Brampton, Toronto, Mississauga, Guelph, and Burlington.
Specialty:
CONDITIONS:
Sunglasses, Contact Lenses, Designer Frames, Prescription Eyewear and Eyeglasses, Eye Exam, Children's Glasses and Safety Glasses

PROCEDURES:
Sunglasses, Single-Vision, Bi-Focal & Progressive Prescription Glasses
Contact:
Working Hours:
Mon-Fri: 11am - 7pm
Sat: 11am - 6pm
Sun: 11am - 5pm
TBR® Inspection Report: