Maple Acupuncture & Wellness
Maple Acupuncture & Wellness is one of the best acupuncture clinics in Vaughan. Maple Acupuncture & Wellness is one of the Three Best Rated® Acupuncture in Vaughan, ON.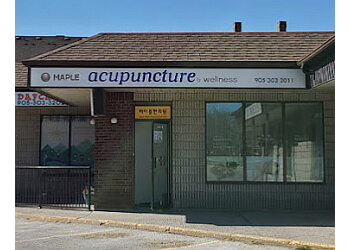 They offer Acupuncture, Chinese Herbal Medicine and several other alternative therapy strategies. All of their practitioners and staff always try to help their clients get recover from their illnesses. Eric Ahn is a licensed practitioner of traditional Chinese medicine. He treats patients more effectively and efficiently. As a professor of traditional Chinese medicine and acupuncture, Eric has taught courses related to traditional Chinese medicine and acupuncture at Georgian College and the Toronto School of Traditional Chinese Medicine for many years. He uses various modalities from Eastern, Chinese and Western medicine and treatment techniques. The clinic offers several recovery approaches to optimize the symptoms' healing benefits during the same session. Maple Acupuncture & Wellness is a 2019 Customers Choice award winner. They are also located at 7007 Islington Ave. #9, Vaughan, ON.


Direct Billing Available
Extended Health Insurance Accepted.
Fertility Treatment

Weight Management and Emotional Problems such as Anxiety

Depression

and Stress with Acupuncture and Herbal Medicine

Facial Rejuvenation with Cosmetic Acupuncture

Pain Management

Migraines

Headaches

Neck

Shoulder

Lower Back

Sciatica

Knee

Ankle

Elbow

Wrist Problems & Internal Medicine Treatment
Dr. Eric is professional, and knowledgeable, and targets exactly what is necessary to treat your symptoms and aid your overall wellness. He doesn't just stick needles in you, leave you in a room, and come back in 20 min (like some other practitioners I have been to). He stays with you, uses various treatment methods to help you and never rushes. Helen (another massage therapist) is very friendly and helpful as well. The office is always clean. I am so happy a friend referred me to them. I'm a regular client now.
My friend recommended this acupuncture clinic to me. My experience was really great. Dr. Eric's consultation made me feel like he knew exactly what was going on with my body. And that was true. The whole process was very reassuring and the results were very impressive. I will come back again.
Very nice place. Helen is very kind, sweet, and attentive. She massages areas that actually need it the most instead of just a general massage. I would definitely recommend getting a massage here!
Acupuncture:
Initial Visit $120
Follow-up $80
Acupuncture with Cupping or Moxa $100
Weight Loss $90
Cosmetic Acupuncture $120
Cupping or Moxa without acupuncture $80
Massage Therapy:
90-min Massage $158.2
60-min Massage $113
45-min Massage $90.4
Mon-Fri: 9am - 7pm
Sat: 10am - 5pm
Sun: Closed
Nearby Acupuncture in Vaughan: