Triple Element Acupuncture
Triple Element Acupuncture is a prominent acupuncture clinic in Vaughan, ON. Triple Element Acupuncture is one of the Three Best Rated® Acupuncture in Vaughan, ON.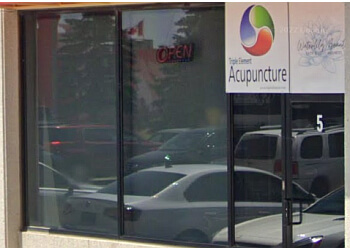 Within their inviting Chinese Medicine clinic, you'll discover a serene and comforting environment perfectly tailored for relaxation, restoration, and healing. A team of highly skilled acupuncturists forms the core of their practice, employing a holistic framework for health. Their approach delves into the fundamental origins of pain and ailments, fostering enduring well-being and healing. The center extends beyond acupuncture, offering various beneficial products, programs, and beverages to guide you toward a healthier lifestyle. With a comprehensive understanding of multiple conditions, they provide solutions for migraines, insomnia, fatigue, muscle pain, arthritis, anxiety, carpal tunnel, sinusitis, PMS, and more. David Miguez is a dedicated Registered Acupuncturist and Traditional Chinese Medicine practitioner, leads the team. His guiding principle empowers individuals to lead lives they cherish through natural medicine, mindful movement, and lifestyle decisions. He adopts an evidence-based systems-oriented approach, addressing the underlying causes of ailments across your body, mind, and spirit. Contact them today to secure an appointment and embark on your journey toward holistic well-being.


10 Years of Experience
Individualized Care
Holistic Approach
Integrative Collaboration
Individualized Care.
Acupuncture

Naturopathic Medicine

Inflammation and Gastro-Intestinal Health

Muscle Pain

Arthritis

Migraines

Fire Cupping

Massage

Spa Services

Herbal Medicine

Hypnosis & Reiki
David is an exceptional acupuncturist. His extensive knowledge, kindness, and expertise have significantly reduced the intensity and frequency of my migraines and in turn my reliance on pharmaceutical medications. He is a skilled practitioner in acupuncture and cupping, while I was skeptical at first, he took time to explain the science behind the treatment, putting my mind at ease and providing confidence in his treatment. Highly recommended David for effective, personalized and compassionate care.
I see David and I cannot recommend him enough! I've been in pain on my lower back and all the way down to my calves. I've already noticed a big improvement with just two treatments. I really appreciate how he explains everything in so much detail and provides tips for at-home care. The facility is also exceptional, I highly recommend this place.
David is honestly the best! I had pinched my sciatic nerve and he recommended for me to do acupuncture. I felt so much better after 2 sessions. He is professional and genuinely cares about his clients. Would recommend to anyone.
Chinese Medicine Visit:
Initial Visit $150
Follow Up $100
Naturopathic Visit:
Initial Visit $250
Follow Up $150
Massage Therapy:
Initial & Follow-Ups $120
Discount
20% Off for ThreeBestRated Customers
Mon-Fri: 10am - 7:30pm
​Sat: 9am - 2pm
Sun: Closed
Nearby Acupuncture in Vaughan: