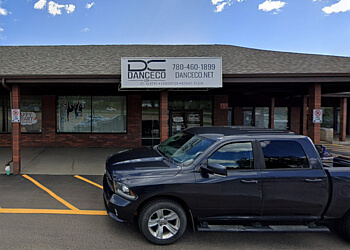 DanceCo Ltd stands as a prominent dance academy within St. Albert, holding a position at the forefront of the field. Their dedication to the St. Albert community spans over three decades. Tracey Knott is the owner of DanceCo Ltd. The teaching faculty, composed of experienced and skilled professionals, is committed to providing individualized attention and constructive motivation to students, whether they pursue dance as a recreational activity or engage in competitive endeavors. In a warm and nurturing environment, every student is encouraged to strive for their personal best. DanceCo Ltd. caters to a diverse range of ages and skill levels, offering classes tailored to meet various abilities. The dance school extends opportunities for students to showcase their talents through performances. Notably, DanceCo Ltd. has also extended its influence to Edmonton, furthering its commitment to providing exceptional dance education.

UNIQUE FACTS:
• Dc Play Zone Events. Babies Under 12 Months Are Free
• Studio Rental for Birthday Party
• Summer Programs.
Specialty:
CLASSES: Ballet, Partial Year Programs, Imagination In Motion Acro, Musical Theatre, Ukrainian, Creative Movement, Summer Camps, Birthday Parties, Recitals, Jazz, Tap, Hip-Hop, Lyrical, Pre-School Dance, Recreational & Competitive Program
$Price:
0.50 $48
0.75 $58
1.00 $69
1.25 $81
1.50 $93
1.75 $105
2.00 $111
2.25 $119
2.50 $123
2.75 $135
3.00 $145

3.25 $152
3.50 $162
3.75 $171
4.00 $180
4.25 $185
4.50 $191
4.75 $198
5.00 $205
5.25 $210
Birthday Party: S $175 for 10 Children
Dc Play Zone:
$10/child
$15 / Family
Happy Heart Playschool:
Tuition 2-Day Program $150/month
3-Day Program $190/month
Registration Fee $100
Program Fee $100

Contact:
Working Hours:
Mon-Thu: 4pm - 9pm
Fri: 4pm - 8pm
Sat: 9am - 2pm
Sun: Closed
TBR® Inspection Report: