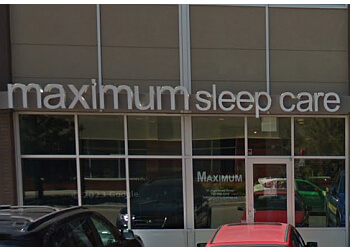 Maximum Sleep Care Inc. is a premier sleep clinic in St. Albert, Canada, distinguished for its exceptional services. Their healthcare professionals are highly trained in conducting comprehensive sleep studies and delivering expert respiratory therapy, all aimed at supporting their clients' diagnosis, treatment planning, and sleep restoration programs. With a proper diagnosis and tailored treatment plan, their dedicated healthcare team is wholly committed to enhancing their clients' and patients' overall quality of health and sleep. These specialists take a personalized approach, crafting an individualized treatment strategy that addresses your diagnosis and concerns. Your case is overseen by a pulmonologist or an ABSM Physician who provides you and the clinic with an official diagnosis for any underlying sleep disorders or other health-related issues. In addition, Maximum Sleep Care Inc. supplies the equipment required for ongoing home care and treatment, including CPAP machines or dental appliances. They also extend assistance in processing your insurance claims and managing your healthcare coverage. To embark on the journey towards improved sleep and better health, you can contact them to schedule an appointment and access their valuable services.

UNIQUE FACTS:
• 30 Day Free CPAP Trial
• Sleep Assessments
• Home Sleep Studies
• Personalized Treatment Plan
• Parking Available.
Specialty:
Obstructive Sleep Apnea, Snoring, Excessive Daytime Sleepiness, Chronic Fatigue, Poor Concentration, Clumsiness and Being Accident-Prone, Chronic Dry Mouth/ Sore Throat Upon Waking, Restlessness or Insomnia, Memory Loss, Irritability, Lack of Concentration, High Blood Pressure, Stroke, Hypertension, Irregular Heartbeat, Cerebrovascular Disease & Depression
Contact:
Working Hours:
Mon-Fri: 9am - 5pm
Sat & Sun: Closed
TBR® Inspection Report: