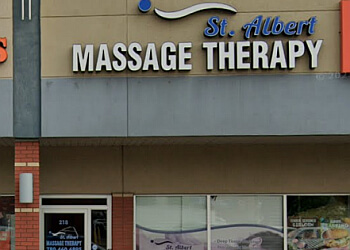 St. Albert Massage Therapy is a prominent massage therapy center in St. Albert. For nearly three decades, since 1992, St. Albert Massage Therapy has been dedicated to delivering personalized massage treatments to promote pain-free movement, enhance overall well-being, and alleviate stress. Their mission revolves around providing high-quality, individualized care. They are committed to assisting their patients in adopting active and healthy lifestyles by facilitating pain-free movement, bolstering overall wellness, and reducing stress levels. The core of St. Albert Massage Therapy's mission centers on empowering individuals to lead active and healthy lives, emphasizing the importance of achieving pain-free movement, optimizing well-being, and reducing stress. This commitment to personalized and top-tier care extends to their offering of direct billing to most insurance companies. Moreover, for the convenience of their clients, they provide appointment booking options throughout the week, from Monday to Sunday, including evening slots, ensuring that individuals can schedule appointments at their preferred times.

UNIQUE FACTS:
• Gift Certificates
• Individual High Quality Care
• Personalized Treatment.
Specialty:
Therapeutic and Deep Tissue Massage, Sports and Injuries Massage, Pregnancy and Prenatal Massage, Trigger Point Therapy, Relaxation Massage and Swedish Massage, Hot Stone Massage, Myofascial Cupping, Graston Massage Technique & Manual Osteopathic Therapy
$Price:
New Patient Promo:
60 minutes: $80
RMT Massage
30 minutes: $65.00
45 minutes: $75.00
60 minutes: $100.00
75 minutes: $120.00
90 minutes: $145.00
120 minutes: $190.00
RMT Pregnancy Massage
30 minutes: $65.00

45 minutes: $75.00
60 minutes: $100.00
RMT Massage with Cupping
30 minutes: $65.00
45 minutes: $82.50
60 minutes: $110.00
75 minutes: $127.50
90 minutes: $155.00
120 minutes: $200.00
RMT Hotstone Massage
60 minutes: $125.00
75 minutes: $150.00
90 minutes: $170.00
RMT Aromatherapy with Massage
60 minutes: $120.00
75 minutes: $140.00
90 minutes: $165.00
120 minutes: $210.00
Rapid Therapy Treatment
15 minutes: $75.00
30 minutes: $90.00
45 minutes: $110.00
60 minutes: $130.00
Manual Osteopathy Treatment (MOT)
MOT Initial Assessment with Treatment:
75 minutes: $150.00
90 minutes: $165.00

Discount:
New Customers Get 20% Off for 1 Hour Massage
Insurance Accepted:
Alberta Blue Cross, Alberta School Employee Benefit Plan (ASEBP), Bricklayers & Allied Craftworkers Local 1 (BAC), Construction and General Workers' Union Local No. 92, Cowan Insurance Group, Desjardins Group, Equitable Life of Canada, Great-West Life, Green Shield Canada, Funds Administrative Service (FAS), Industrial Alliance, Ironworkers Local 720, Johnson Insurance Group, Chambers of Commerce Group Insurance Plan (Johnston Group), Merit Insurance Brokers & Manulife Financial Corporation
Contact:
Working Hours:
TBR® Inspection Report: