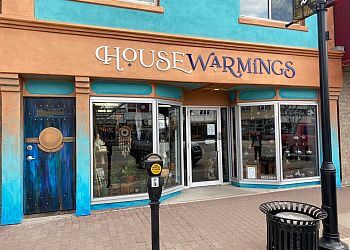 housewarmings has solidified its reputation as one of the city's most cherished local businesses. Renowned for its distinctive offerings, this establishment boasts an intriguing assortment of treasures, ranging from fragrant incense to elegant furniture. At housewarmings, you'll discover an extensive selection of metaphysical apparel, including boho-style clothing, exquisite jewelry, ceramic ware, and various items for embellishing your living spaces. What sets this shop apart is its commitment to supporting local businesses by featuring unique gifts sourced from the community. Visitors are greeted with an inviting interior that enhances the enjoyment of every visit. The shop's knowledgeable staff members are always on hand to assist customers in selecting the perfect gift, ensuring a personalized and satisfying shopping experience. Beyond their selection of gifts, housewarmings excel in providing top-tier home decor and design services, helping customers transform their living spaces into personalized sanctuaries that reflect their unique styles and preferences.

UNIQUE FACTS:
• Sourced World Wide
• Direct Trade Relationship.
Specialty:
House Decor, Earrings, Mugs, Fun Stuff, Metaphysical Attire, Jewelry, Bracelets, Incense to Furniture, Jewelry Boxes, Kitchen Accessories, Photo Frames, Dishes, Boho Style Clothing, Crafted Pottery, Essential Oils, Handbags, Necklace, Himalayan Salt Rock Lamps, Crystals, Bath and Body & Locks
Contact:
Working Hours:
Mon-Sat: 11am - 5:30pm
Sun: Closed
TBR® Inspection Report: